Folks have been talking about the death of trade shows for decades and yet they are still going strong. At SixB Labels we like to put the morbidity to the side and make ourselves available for more start-ups, as well as small businesses and global companies, and are going back to one of the largest annual packaging events, WestPack Anaheim, exhibiting in Booth 5154 from February 5-7, 2019 at the Convention Center.
Our focus for the 2019 WestPack trade show is essentially to be available for those businesses starting up and/or in a transition phase, unsure what their next step is, who could use some inspiration for their labeling operations, as well as for those businesses whose programs are established and open to another provider path. In all scenarios, we are available to be the labeling source for businesses' labeling operations, regardless of their company size or prospective order volume.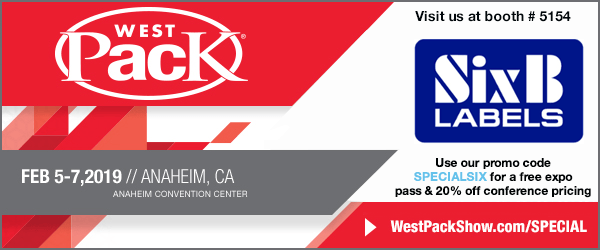 As the years go by, technology develops, and industries evolve, we see more and more how getting products to market following certain printing traditions is simply not the best fit for every business--start-up, small, or global corporation. Business size and budget might not be the same, and yet companies fall into some similar trends of tight program budgets. Digital printing, be it with single or multi-color print options, increases accessibility to market, creating opportunities for lower volume label orders without discounting on design and material quality or ultimately, a business' branding. During WestPack Anaheim, SixB Labels will demonstrate multiple digital printing solutions with real-time samples available for Booth 5154 visitors to take away.
All that being noted about the increasing value in digital printing, more traditional printing methods, from flexography, to hot and cold foil, embossing and silkscreening, could be better fits for various businesses. Throughout its 40 years so far, SixB has honed its printing methods, along with combination printing options, additional Barcoding solutions, and distribution of Labeling Products, to be accessible for companies regardless of their size and projects. So ultimately, our product and service offerings could grow with companies, customized to their requirements. [For more insight on 7 Ways to Label with SixB read this blog post here.]
Also at SixB, we are self-aware enough to know that Labels, Barcodes and Labeling Products are not the only goods one would be looking for. The WestPack trade show also features exhibitors in Food & Beverage Packaging; Design and Product Development; 3D Printing; Robotics and Automation; and Contract Manufacturing. If that weren't enough, your complimentary WestPack Expo badge [Use Code "SPECIALSIX" to register] also gives you access to four additional expos spanning Medtech; Smart Manufacturing; Plastics; and more Automation — all on one floor.
While we hope to see you at WestPack Expo this year, here's a helpful Checklist to get you ready for the show!
SixB Labels WestPack 2019 Checklist
Register For The Show — Visit registration site here and use code "

SPECIALSIX

" to receive your complimentary WestPack Expo pass and/or 20% off a conference pass!
Schedule a 20-minute Consultation with the SixB Team — Make more use of your time during the WestPack trade show where you'll have a dedicated time to talk about your product and goals. Click here to schedule your meeting!
The SixB Labels team looks forward to connecting with you at WestPack Anaheim!