What is Hot Foil Label Stamping?
Hot foil stamping is the process used to print hot foil labels or hot stamp labels, among other products. It may sometimes be referred to as hot stamping or foil stamping and is a fantastic way of producing high-quality luxury labels.
The process involves the use of a hot stamping machine, where a die is heated and the product to be stamped is placed below it. The die is then pressed through a metalized or painted roll leaf carrier and the dry paint or foil is impressed into the surface of the product, in this case, a label. Because the materials involved are dry, hot foil stamping is a non-polluting process.
The origins of Hot Foil Stamping date way back to the 1890's, when it was used on leather and paper. Today it is more frequently used on plastic, and of course, to create labels!
Typical Applications of Hot Stamping Labels Include:
Food and beverage product labels
Health and beauty item labels
Pharmaceutical container labels
Luxury and gourmet goods labels; Candle labels
Tobacco product labels
Wine and spirit bottle labels
Security labels
Jewelry labels
Logo labels; Anniversary labels
Everyone involved in printing, from providers to customers, has at some point seen and admired an eye-catching custom hot stamping label — they are created to be noticed! The process is universal and employed with a wide range of pressure-sensitive products, such as labels, decals, and bar codes.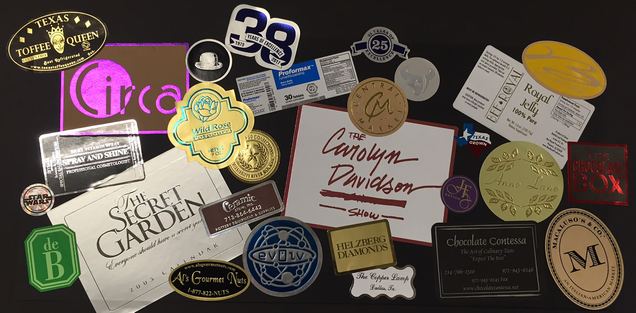 Hot foil stamping is a very effective procedure for a label that requires a more complex, elaborate design with fine lines and smaller images since the die to be used will maintain the clarity of the edges. This procedure lends a label a decorative finish and is often associated with higher-end products, so it can be a very effective marketing tool to set your product apart and catch the consumer's gaze.
To get the best value for the cost of production, it is helpful to understand the uses and processes involved in creating hot stamp labels.
How to Hot Foil Stamp?
What Materials Do You Need For Hot Foil Stamping?
In hot foil stamping, also referred to as foil printing, rolls of a pigment or a metallic foil are used. It is available in both matte and glossy finishes, as well as a wide assortment of colors — typically gold, silver, copper, and holographic metallic. In addition, various patterns can be applied, as well as pastel foil, a flat opaque color, or a special white film-backed material. The foil material used in hotstamping is composed of several layers, including a polyester carrier, a release layer, and various layers of lacquer, image, and metal, plus an outer adhesive layer for sizing. SixB Labels can offer you an impressive variety of colors in both matte and gloss finishes for hot foil options.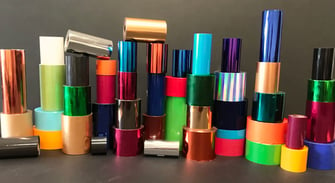 Hot Stamp Foils In A Variety Of Colors
Foil can be applied to a wide variety of substrates as well. We can hot stamp onto a number of different materials, such as linen-look paper, semi-gloss paper, kraft paper, and silver and gold foils. Clear plastics, such as polyester, are also typical choices for the surface. While foil can be applied to foil, the application can prove more challenging.
What Equipment Is Used for Stamping?
Hot stamp dies have evolved, along with the process itself. In earlier times, hot foil stamping employed hand-set lettering or was accomplished through the use of custom-engraved dies. Early hot foil stamping was a very labor-intensive process, so it was first used almost exclusively for literary titles and book covers. But by the late 1800s and early 1900s, modern hot-stamping foils were being developed, and by the 1930's it was possible to apply gold to polyester film.
In order to hot stamp, the foil must be forced against a substrate by a heated die, normally made of brass, and supported by either a counter plate or counter cylinder, in a process somewhat like that of letterpress or engraving. Pressure plus the activation of adhesive sizing creates the attachment between the foil and the substrate, aided by the melting of the release layer.
The image below shows a foil stamp die with a blade held in place by an acrylic form, which is designed to be mounted to a machine plate. The image shows the backing foam used to protect the exposed blade, which is taller than the acrylic form.
Along with the foil stamp die pictured below, an 11 pt. (.153 inch) thick magnesium plate, also designed to be machine mounted, would be used in the stamping process. This unit, which employs an etched image, is heated, and the foil is run between the plate and the substrate so that the image can be transferred, leaving behind an impression of the design of the die. In order to create a 3D image, foil stamping can be combined with embossing.
| | |
| --- | --- |
| | |
| Foil Stamp Die Photo | Gold Foil Stamped Label |
What Equipment is Used for Embossing Labels?
Embossed labels are produced when heat and pressure are used to create a three-dimensional, raised-relief image or design in paper and other materials. Two dies are needed for this process; a raised die and another that is recessed. These two dies are fitted together, and the paper is pressed between them to create the image. When creating an embossed foil label, a design that requires thicker, bolder lines is easier to execute. Producing a label using a complex image with multiple fine lines can prove more difficult. Blind embossing uses neither ink nor foil to create an image, and produces a subtly raised design; it can be combined on the same label with foil stamping.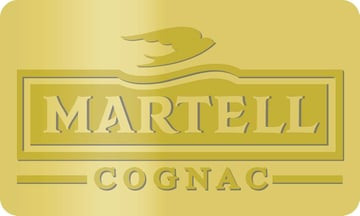 Embossed Gold Foil Label
What Surfaces Can be Used for Hot Stamping Labels?
While hot foil can be successfully applied to many different materials, some are more suitable. With man-made substrates, hot stamping is often used effectively on different plastics, including polyester, polyethylene, and polypropylene, as well as vinyl, since these materials are softer and offer better adhesion.
However, because every foil has a different level of adhesion, which is activated by heat, the material to be foiled may need to be tested for its treat level. This involves a Dyne Pen test, using a special marker pen on the material to be foiled, which measures the pores in the surface to be foiled to determine if adhesion will be successful.
Foil can also be employed on a label with a rough surface, for example, a linen-look label for a wine bottle, and be combined with an embossed surface as well. Since hot foil will have a slightly raised appearance, it becomes a great choice for higher-end product applications. The only drawback is the expense of producing a metal hot stamp die, and the extra production time.
What Are the Benefits of Hot Foil Labels?
In a crowded marketplace, full of products and marketing materials, it can be really challenging to catch the notice of consumers. Vibrant visuals can be key to accomplishing this, so in the realm of consumer perception, sparkle and shine go a long way to make labels and their packaging more visible. A study has shown that in order to draw the attention of consumers and keep it there for longer, foil stamping and other decorative enhancements are effective additions to packaging and other marketing materials, helping them to stand out from their competitors.
| | |
| --- | --- |
| | |
| SixB's 40th Anniversary Hotstamp Plate | SixB's 40th Anniversary Hotstamp Label |
A hotstamped format is a particularly successful choice for a commemorative or anniversary label. In order to commemorate four successful decades in business, SixB Labels recently produced our new 40th Anniversary hot stamp label. This image shows, not just the label, but the carved metallic plate used in the stamping process.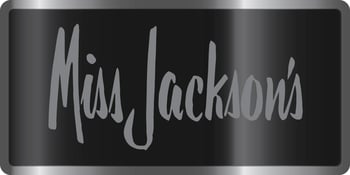 Black On Silver Hot Stamped Foil Label
Marketing via association is also a persuasive approach. One of the reasons that foiling in rich colors and metallics is so effective is that the sparkling, saturated colors carry a positive association with wealth and opulence, similar to that conveyed by richly colored fabrics or bright jewels, while the glints of gold, silver and copper are reminiscent of coins. This is why hot foiled labels make the perfect choice when marketing luxury items with higher price points.
Where Can I Get Hot Stamp Labels?
Hot foil label stamping is an exacting process, requiring years of experience, the right equipment to do an outstanding job, and an eye for color and design. SixB Labels can offer you all of the above, along with an impressive variety of colors in both matte and gloss finishes for hot foil options. Relying on our many years of experience, and employing our hot stamp machines, manufactured by New Foil, SixB Labels can create outstanding foil labels for your project. Let us know if we can help with your next foil label project!

Save Time - Email Us Directly With Your Hot Foil Label Questions:
See Related: