On the 50th Anniversary of Earth Day, we still believe every day should be a celebration while taking particular note of the tradition that began in 1970. Eco-friendly printing has been a staple of SixB Labels operations since our early days. 2019's originally posted blog "Why Print Your Labels With FSC-Certified Paper and Water-Based Inks?" explained the reasoning behind our company's use of FSC (Forest Stewardship Certified) paper products and water-soluble inks. It has been a way of providing a cleaner and greener approach to label printing with cost accessibilities.
As technology and capabilities increase so do our eco-friendly label printing techniques. In this post, we will explore more and some newer aspects of this greener approach to printing: the use of biodegradable materials. We look at biodegradable label parts in the form of:
A newer and more sustainable choice: repulpable adhesive
Recyclable paper products
The disposal of water-based inks.
While we dive into this topic below, a short note that SixB Labels is remaining open safely during the current pandemic with more details in our post "We're Here For You" and your business. Please don't hesitate to contact us.

What Is the Significance of Using Recyclable Paper Products?
Let us look into the significance into two parts or two questions.
What Are the Economic and Ecological Benefits of Recyclable/Recoverable Paper Fiber?
The benefits to using recyclable/recoverable paper in the production of packaging, labels, and other printed products are many. They include:
The reduction in the use of virgin timber, to be replaced by recycled wood pulp and other wood products.
The cultivation of stands of timber specifically to be harvested for paper production, leaving other climax forests of various hardwoods free of clear-cutting and other destructive timbering activities.
The reduction of greenhouse gas emissions from land-filled paper.
The conservation of land-fill space. Having used packaging that fails to meet the needs of the environment and the modern economy, the United States is running out of this space, such that by 2021, there will only be another 15 years remaining of total landfill capacity.
What Role Has Government Regulation Played in Improving Paper Product Recycling?
With the growth of e-commerce platforms — and even with current events — there has been a parallel growth in demand for clean, fully recyclable packaging and labeling. Companies have been working at top speed to make products and catalogs available online 24/7. In response, customer demand for fast, free shipping has grown exponentially. This charged fast-moving online economy has presented the paper industry with a conundrum: How to feed the ever-growing consumer appetite while managing the waste stream it creates?
Given this pressure, new efforts are underway at the regulatory level to find solutions. For example, the United States Postal Service (USPS) undertook a project starting in 2017 which, among other goals, set out to establish a metric to help identify adhesives that might prove environmentally benign. These adhesives had to meet the agency's guidelines for postage stamp adhesives, and also satisfy the industry's metrics for recyclability. In order to respond to these more demanding USPS standards, the Tag and Label Manufacturing Industry (TLMI) was compelled to create their own Standards for Recycling Compatible Adhesives. This has allowed the USPS and TLMI to synchronize their requirements for manufacturers.
What Are the Challenges Facing the Paper Recycling Industry?
The processing of recycled paper presents some distinct challenges. Interestingly, it is the smallest element in the process that presents the biggest challenge: as pressure-sensitive adhesives combine with recycled paper, this can produce small particles, known as "stickies." The build-up of these particles on equipment can cause defects in the final product paper. The results: lower product selling prices, increased downtime, and costs for equipment cleanup. In fact, the estimated cost of stickies to the paper industry is hefty at over $700 million dollars per year.
Labeling companies have had to respond to the urgent need for sustainable solutions with new thinking and innovative approaches. This is in order both to help paper companies recycle papers and boxes that have adhesive-based labels on them, and to meet the USPS' standards of recyclability.
What Are Recycling-Compatible Adhesives?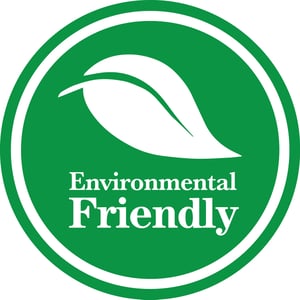 Companies are now developing new adhesives compatible with the existing recycling stream. One example is an innovative adhesive produced by Avery Dennison — the new TrueCutTM All-Temp Adhesive Technology, or AT2550. This adhesive has been created specifically for paper face stocks, and it is specially designed to be used for shipping and weigh-scale purposes as well as warehouse and logistics applications.
A great feature of the AT2550 adhesive is that it is formulated without Alkylphenol Ethoxylates (APEOs). With 10% fewer chemicals and 8% less water, it has 20-to-30% less "ooze" than other all-temp adhesives, for a strong, high-performing formula providing cleaner rolls with reduced downtime & faster converting.
But perhaps the best and most essential feature of this new adhesive is that it is repulpable: it dissolves completely in water during the paper repulping process. This results in adhesive packaging that is fully recyclable so that products labeled with this platform can go back into the paper-recycled-waste stream. The good news here is that AT2550 not only reduces stickies; it also meets the testing criteria of the TLMI Recycling Compatible Adhesive LRP-2 Lab Test Protocol. This protocol includes tests that are designed to confirm that the adhesives meet the recycling industry's key criteria and to also ensure that AT2550 may be fully recycled at the end of the label's life.
What Makes Water-Based Inks the Most Environmentally Friendly Choice?
In that 2019 blog post on eco-friendly label printing, we looked at the benefits of printing with water-based inks, and noted that their higher levels of water and fewer Volatile Organic Compounds, (VOCs) which reduced their off-gassing, made them a greener solution that produced a more environmentally friendly product. But there is another reason why they are an environmentally sound choice. Simply, being water-based makes them non-toxic. As these inks are used, their residue collects in the printers' pans and hardens to a solid, which is fully, safely disposable. This sludge can be placed in a 55-gallon drum, transported, and safely burnt without toxic emissions.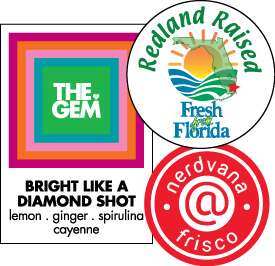 Why Pay More for Eco-Friendly Labels?
Essentially you do not have to pay more. Here at SixB Labels, we find it very satisfying to be able to offer greener printing options that don't cost any more than those following standard techniques. This approach lets you keep an eye on your bottom line while you also help to steward the environment. Our label manufacturing involves high-performing adhesive and water-based inks. In addition, all of the face stock that SixB uses to manufacture labels, including semi-gloss, direct thermal, and thermal transfer paper, is available as fully recyclable or repulpable paper.
Ultimately, if you are looking to work with a multi-capable and environmentally conscious printer with a 100% guarantee for your order of eco-friendly labels, we are here for you and your business. We look forward to connecting with you more as soon as you are ready!
Save Time - Email Us Directly With Your Environmental Questions:
See Related: