Here at SixB Labels, our goal is to simplify the labeling process to make the routine parts of one's life flow a little more smoothly. It is in that spirit that we offer this blog post, intended to make the process of designing, developing, and printing a parking permit just a little easier. In it, we cover the requirements for a good parking decal and the significance of a parking permit as a marketing device. We also look at who might benefit from using this product. In addition, we describe the materials and printing processes we offer to produce a custom parking decal perfectly suited to your needs.
What Sort of Requirements Should a Good Parking Decal Meet?
Custom Parking Permits are created to meet a variety of needs. Chief among these are building security and traffic control in a limited space. These parking decals are only useful if they can adhere well over time. They must also be able to withstand the stresses of outdoor exposure, in addition to that of harsh indoor environments without climate control, which makes these permits' durability a key factor in their usefulness.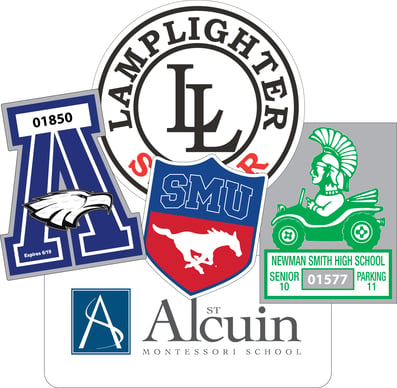 University and School Parking Permits
Why Is a Parking Permit an Effective Marketing Tool?
It is a bonus that a parking permit is not only a security/traffic control device. It can function as a highly effective promotional tool as well. The strong visual impact of these outdoor decals makes them a great branding device for many different types of entities. Schools, universities, houses of worship, businesses, sports clubs, government agencies, membership organizations and more could all benefit from increased visibility, and one great technique to ensure this is to employ bold colors and striking designs on a parking permit, which has more visibility from a greater distance than a standard label.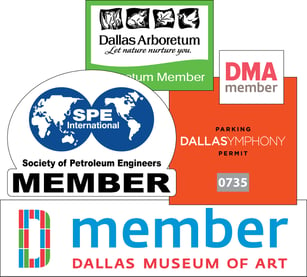 Organizational Parking Permits
Who Can Benefit From Using Parking Decals?
The managers and employees working at any building utilizing a parking lot or structure can benefit from the use of parking decals. Such institutions of learning as high schools, colleges, and universities immediately come to mind, with parking decals meeting the needs of students, staff, faculty, and campus visitors. These outdoor labels are the perfect solution for business' employee parking as well. Other public or private facilities, such as museums, gymnasiums, natatoriums, and event arenas, will greatly benefit from a system utilizing parking stickers. For the staff of both hospitals and police stations, they are an absolute must. Parking decals are also a great option for resident parking at apartment complexes and resident hotels.
To help make a parking permit into the most effective tool for identification and security purposes, they can feature various types of ID markers, including barcodes, sequential numbering, and/or dates.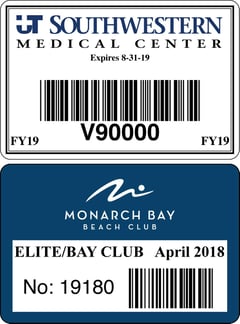 Barcoded Parking Permits
What Materials Does SixB Labels Offer for Parking Decals?
These parking stickers could be made with a variety of popular materials — ones that lend themselves to the production of a sturdy, long-lasting, weather-resistant product. Good choices of material might include vinyl, polyester, or reflective materials. To help ensure the life of your parking permit, we offer lamination to provide additional protection and durability. SixB Labels can also produce your parking permit with removable, permanent or static cling adhesives. We can offer you both single and double-sided printing options as well.
Another possible printing solution for your parking decals is to produce them via silkscreening, with UV inks. This printing technique is especially good to help reduce the fading of the colors of your parking permit due to exposure to sunlight.
Essentially, if you are contemplating a custom parking permit project, you have come to the right place! We offer you more than 40 years of experience, expertise and resources in the creation of custom labels, decals, and barcodes. Contact us today for a free consultation and quote on your custom parking decal printing needs!
Save Time - Email Us Directly With Your Parking Permit Questions:
See Related: