What if you could start producing professional-looking labels without needing IT, the cost of training, or paying a label manufacturer more to print the specific content onto labels? We have some good news for you!
At SixB Labels, we make an ongoing effort towards Simplifying Labeling for our clients. To further that aim, and bring you the highest quality in products and services for your labeling needs, we are offering Loftware NiceLabel Software. The Loftware NiceLabel robust product line includes: both on premise and cloud-based labeling platform solutions (that SixB offers offline); and desktop solutions in Designer and PowerForms versions (which we sell online and offline).


What Is NiceLabel's Backstory?
Established in 1993, NiceLabel has been a leading, global developer of label design software and label management systems. Their goal is to help companies of all sizes improve the quality, speed, and efficiency of their production when printing barcode labels, all while reducing costs. They sell a variety of products — with a host of features that allow them to accommodate the differing needs of manufacturers — including: Designer Express, Designer Pro, PowerForms 1 User, PowerForms Suite, LMS Pro, LMS Enterprise, Cloud Essentials, Cloud Business and Cloud Compliance.
NiceLabel has recently combined with Loftware, Inc., the global leader in Enterprise Labeling & Artwork Management Solutions, under the Loftware corporate umbrella.
This Loftware NiceLabel union will now give customers and business partners an expanded choice of solutions including:
Enhanced labeling capabilities

Greater investment in cloud-based solutions and technologies

Sixty years of combined expertise in solving labeling challenges for companies of all sizes, over a wide range of industries, globally
What Does the Software Offer Your Business?
According to Loftware NiceLabel, their software products will allow anyone to design barcode labels without training. Their Microsoft Office-like format offers a familiarity that makes the software easy to use. NiceLabel software allows users to easily create compliant barcodes without coding, resulting in fewer label discrepancies. In addition, the platform provides a universal template that will work on all printers, with maximum performance on 4K label printers.
The economic argument comes into sharper focus when you consider how widely the labeling needs of different companies vary. Some companies need to produce large quantities of uniform labels for a single product, but others may offer a large selection of products. These manufacturers may need to produce many smaller batches of labels, of differing sizes and with varying formats. At that point, paying an outside printer may not be the most cost-effective solution.
However, printing those labels in-house with NiceLabel lets a company create a large volume of labels over time with a variety of formats. In exchange for the initial investment in software, the introduction of in-house, on-demand printing streamlines a manufacturer's label design and production. Best of all, it provides just the sort of flexibility that a manufacturer needs to avoid having to store a large number of labels.
The Newest Loftware NiceLabel Upgrade: NiceLabel 10
We are excited to announce that Loftware NiceLabel has issued its most recent system upgrade: NiceLabel 10. This upgrade offers you all the benefits of NiceLabel with a redesigned, modernized control center, new and enhanced integrations, new and upgraded printer drivers, and improved support and training options. If you previously purchased a NiceLabel product from SixB, please contact us today to complete your upgrade!
NiceLabel's Latest Dashboard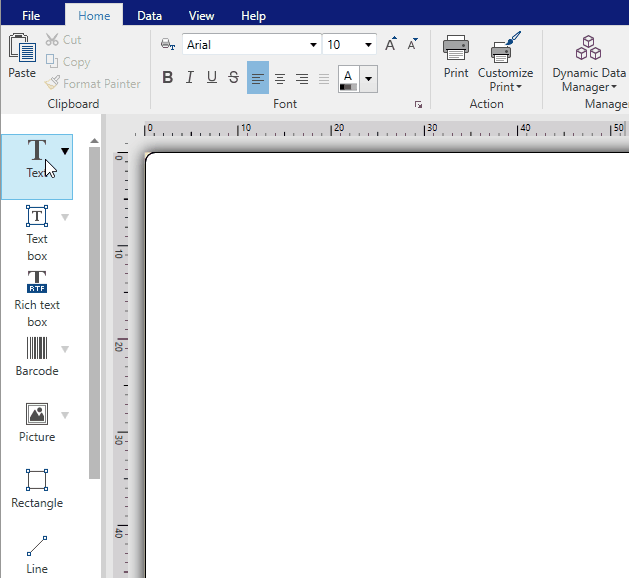 This upgrade has been created to take advantage of the fact that a growing number of label printing customers are wanting to move to cloud-based printing. NiceLabel 10 provides even better options for cloud printing without having to rely on local infrastructure. Benefits include reduced setup and installation efforts and quicker access to support, including from suppliers Zebra and Sato. For more spec details, visit Loftware NiceLabel's 10 info page.
What Are the Four Pillars of Loftware NiceLabel?
The NiceLabel system is based on four pillars including:
1) Label Design: The system simplifies the task of the label design. Loftware NiceLabel comes with many built-in graphical design features that let users create labels in minutes with no specialized training or barcoding experience. As Microsoft has said, "If you can use any Microsoft program, you can use any Microsoft program," and having an interface that looks and behaves like MS Office makes a world of difference. Not only that: any printer you use to produce your labels will work, as long as it has a Windows printer driver.
2) Manual Printing: NiceLabel software centralizes label printing control. The system lets you instantly deploy a standardized label printing process across departments, factories, locations, contract manufacturers, and suppliers, who manage your company's label printing centrally. Your operators can print from a dedicated, streamlined application that requires little training, with reduced IT costs, because there is no need to deploy printing applications for each workstation at every printing site.
3) Document Management: This software centralizes document management as well. The best way to think of it is as SharePoint for labeling. The NiceLabel system lets you design, review, approve and control labeling from a centralized database, without having to install software on individual workstations.
4) Integrated Printing: Using NiceLabel lets you integrate label printing with your other business systems, such as SAP. This increases the accuracy and efficiency of label printing and also establishes a single source of truth for all your labeling data.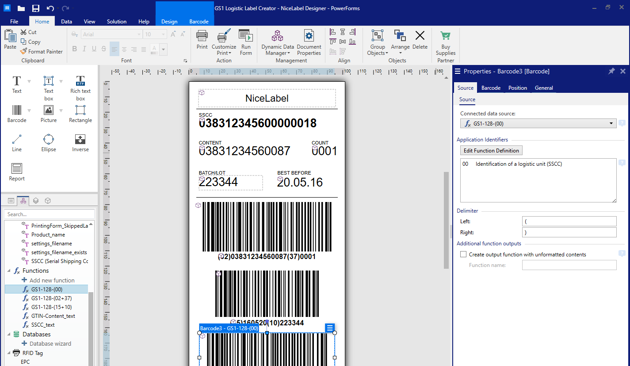 NiceLabel's Easy To Use Pop-Up Panels
What are the Key Benefits of NiceLabel Design Software?
In addition to the above-mentioned ease of design, centralized label printing, centralized document management, and business integration, one of the strongest selling points of the NiceLabel system is all of the options it offers for growth. The goal is to provide you with a basic package that will let you continue to add and expand, to support increased needs for barcode production as your company grows and changes.
Having a choice of single-and multi-user editions
Starting with one computer and unlimited printers
Adding computers in increments of three, five, or ten
Adding printers in increments
Starting with an SMA (Service Maintenance Agreement) for a standard one-year term
Upgrading your SMA to three years
Adding an SMA after purchase
Upgrading from one package, such as Designer Express, to the next level, Designer Pro
The Loftware NiceLabel system offers various combinations of the above options as well
NiceLabel Desktop Designer & PowerForms Features

— click here for PDF file
Loftware NiceLabel in the Field
A case in point of how a company has benefitted from the use of this package is the experience of our client company, FlowCo Product Solutions, an oil-industry equipment manufacturer in Texas. They are an example of how Loftware NiceLabel solutions can support and facilitate label production for a company that needs a very specific type of label.
David Pietch at FlowCo purchased NiceLabel three years ago, choosing the Designer Pro package. His company manufactures a piece of equipment that attaches to oil pipes. Because this equipment must be certified every quarter, FlowCo needed to produce a small label that they could affix to the device.
The label needed a surface area that could accommodate a written serial number with a unique number set, featuring a matching bar code, that could also withstand the elements in East Texas! For durability, they chose a white polyester material and created the label via thermal transfer printing using a LabelTac printer.
FlowCo also purchased a Service Maintenance Agreement (SMA) for their NiceLabel software. In the three years since they purchased NiceLabel, they have only had to utilize it once. At a certain point, Windows did an update to their platform which created a glitch in working with NiceLabel's algorithms. NiceLabel ended up providing a patch. Pietch added: "I was very impressed with the quality of the customer service I received from the help desk. I use Loftware NiceLabel design software on a daily basis and I find it absolutely reliable. And the auditors like the label!"
How Do I Start Using Loftware NiceLabel Software?
If one or more of the Loftware NiceLabel Software versions pique your interest or beyond where you are ready to make a purchase, here are a couple of next step options:
We look forward to working with you on this project and more!
Save Time - Email Us Directly With Your NiceLabel Questions:
See Related: