Any business or customer who understands that materials, machinery and equipment have to adhere to certain safety standards may have been in the market for a stamp or seal of approval to indicate that an item has passed this type of safety testing, and is ready for sale. This is one of many reasons that UL certification is attractive to businesses.
In response to the need to show that your equipment and products have been safety tested, this post is intended to offer you an in-depth look at UL-compliant labels, and how SixB Labels Corporation can help you with your UL-recognized or CSA-recognized label projects.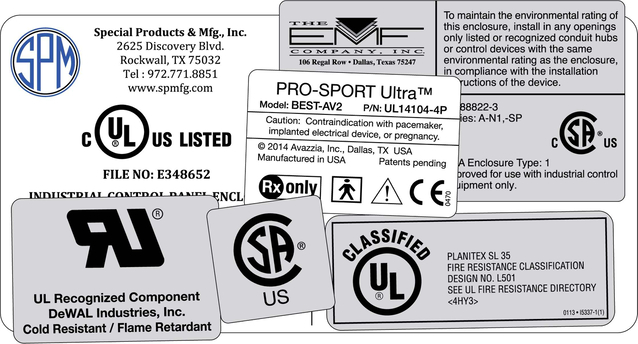 Variety of UL Labels
The odds are high that at some point, you have either heard or read about the Underwriters Laboratories (UL.) Perhaps you've seen a UL-compliant sticker on a lamp base, a piece of electronic equipment, or any one of various appliances, but you may be less aware of who the UL is or what they do.
Headquartered in Northbrook, Illinois, with offices in 46 countries, Underwriters Laboratories (UL) is a global, not-for-profit, safety-science organization, the largest and oldest independent testing laboratory in the United States. They test the latest products and technologies for safety before they are marketed globally, with the aim of making the world a safer place for both workers and consumers. UL is one of the most popular, leading testing services based in North America.
Despite a common misconception that UL tests all of the products that need a UL-approved label, there are times that UL authorizes a manufacturer to test the product themselves using the UL stamp. Then UL monitors the company regularly to ensure that they are following proper guidelines for product testing.
Who Are the Canadian Standards Association?
The Occupational Safety and Health Administration (OSHA) has identified and accredited a number of independently operated, non-governmental labs, suitable for testing a variety of products to established safety standards. They include the Canadian Standards Association (CSA), NSF International, MET Laboratories, and the Testing Services NA, Inc. (formerly known as ETL.)
Such organizations fall under the heading of a Nationally Recognized Testing Laboratory (NRTL)–an organization able to provide safety testing and certification on a variety of products.
While both UL and ETL are Nationally Recognized Testing Laboratories (NRTLs), the main difference between UL and ETL listed products is that, although the Testing Services NA, Inc., doesn't create its own standards for certification, UL develops standards that are used by other organizations, including ETL.
CSA, established in 1919 as a not-for-profit, non-governmental organization (NGO) for standardization, tests electrical appliances, medical devices, machinery, and a variety of equipment, and requires them to bear a CSA label. And depending on where they may be marketed/used, some products, materials, or components will require both UL- and CSA-approved labels.
There is also an Underwriters Laboratories of Canada, a member of the UL family of companies, which issues a ULC mark. This mark is nationally recognized in Canada for many types of products, including building materials and fire protection and suppression products.
A UL label is one designed to show that a piece of equipment has been tested to certain safety standards. Also, to ensure that they conform to the same high standards used in materials testing, UL tests the labels themselves for compliance. Just as you can rely upon any product bearing the UL mark to be tested and certified to a certain UL-recognized standard, all labels with the UL mark can be relied on to meet those sorts of standards as well.
This quality testing covers a variety of label performance issues:
Is the label durable to exposure, depending on whether the label is to be used indoors or out?
Will the label be able to withstand exposure to such substances as gasoline, cooking or lubricating oil, humidity, or other adverse conditions?
Will it adhere permanently to a wide variety of surfaces?
Will it retain its legibility over time?
Will it resist damage or defacement?


What is UL 969?
UL 969, sometimes also referred to as American National Standards Institute (ANSI) 969, is the UL standard for marking and labeling systems used for permanent product identification. Just as any item produced under this standard will be pre-qualified and tested by UL for durability, any label bearing the UL mark has been tested and certified to comply with the UL's stringent safety specifications and standards.
What Are the Requirements for Labeling With UL Labels?
The National Electrical Code requires all items, such as fixed appliances or electrical equipment within a residential or commercial facility, to be tested by an NRTL. And while having UL-compliant labels on electrical equipment is not required by U.S. Federal law, local electrical inspectors may prevent business owners from using electrical equipment based on local regulations unless they see an NRTL mark.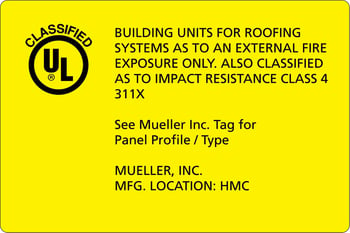 UL Classified Label
What Are UL Markers?
Typically, UL markers appear on labels applied to industrial equipment and home appliances–electrical and/or electronic devices/components and nowadays, in particular, computer parts and peripherals–and fire safety products. Items include circuit breakers, office furniture with electrical outlets, charging stations, control boxes, fuses, electrical panels and light bulbs, as well as CO2 and smoke alarms, sprinklers, fire extinguishers, furnaces, glass, and many other products.
More recently, UL deals with such issues as hazardous substances, food safety, water quality, performance testing, and environmental sustainability. UL marks may be added to safety/warning labels, as well as asset tags, for a variety of equipment, and can be featured on both indoor and outdoor labels.
UL certification is always important, both to businesses and to consumers, because safety is always a good investment. All products and components do not need to bear a UL marker, but there is an incentive for companies selling or utilizing them to make sure they do since this can help to promote sales and make it easier to get products insured.
What Are the Standards for UL Markers?
Despite the fact that there are many incentives for UL labeling, the standards for UL Markers are not simple. In fact, there is actually no such thing as a general UL approval. Instead, that approval is broken down into several tiers, including UL Recognized; UL Listed; UL Classified; and UL Certified. While they share some features in common, it is essential to understand the difference between these types of UL-approved labels, and which ones your business needs.
UL Recognized Component Labels have to meet a permanence of marking criteria via testing (UL 969) to remain affixed to UL end-products. This tier of UL approval is not designed for a finished piece of equipment; instead, it certifies that a component within a larger mechanism meets UL standards. Typically, UL Recognized labels would be applied to such equipment as circuit boards and power supplies used to drive other mechanisms, as a marker for safety and efficiency.
A UL-Listed label indicates that the product it appears on has been tested towards a standard recognized by Occupational Safety and Health (OSHA.)
When a product bears a UL Classified label, it implies that the product is certified to strict safety standards that are created by UL, but not recognized by OSHA.
UL Certified Label With Enhanced UL Mark, Printed on White Polyester
Also, in 2013, UL introduced yet another classification with an enhanced UL Mark that can be used instead of UL's traditional Listing and Classification Marks. This enhanced Mark will consist of a "head" and a "module." The "head," as shown, consists of the UL letters inside the circle, as well as the world CERTIFIED. The "module" which appears below or to the right of the "head" should include the scope of the Certification, the geography where the scope of the Mark is applicable, and a unique identifier, which is typically the UL file number.
In addition, the ancillary information, when required, may include a product identity, as well as a Serial, Lot, or Issue number as provided or required by UL. UL customers of the certified products, who wish to design and obtain approval for an enhanced UL Mark, are required to build their artwork using UL's Marks Hub at the following link: https://markshub.ul.com.
Finally, a UL Certified label, more familiar to consumers, is where "the rubber meets the road." It is applied to a large variety of consumer goods to indicate that far more testing has gone into those stand-alone products. It shows that the item reliably meets nationally established industry standards for safety and longevity, and can be purchased with confidence. If a consumer is thinking about buying two similar products, UL-compliant certification on one of them should prompt a buying decision for that product.
How Can SixB Assist You With Your UL-Recognized Label Projects?
What Sorts of UL-Approved Labels Can SixB Produce for You?
The sorts of UL-Compliant labels that SixB can produce for our clients will fall into two categories:
1.) PDGQ2 - Pre-Printed UL Labels
Before you ask SixB Labels or any label printer to produce UL-approved, pre-printed labels, your first step is to approach UL and get their approval of your label project. SixB can produce artwork, either beforehand, or based on instructions provided to a customer by UL. However, the client must have furnished the finished artwork to UL. Alternatively, the client may request that SixB send the art to UL for approval. Once the artwork has been approved by UL, we are then ready to produce your labels.
2.) PGJI2 - Blank Labels Provided by SixB for Companies Printing Their UL Labels In-house
While SixB Labels is an accredited provider of UL/CSA labels, we work with many clients who need to create their own UL labels in-house. SixB adheres to the standard for Marking and Labeling Systems, UL 969, so we are able to provide you with the raw materials and the thermal transfer ribbon needed to produce such labels. Common materials used are UL-approved white or silver polyester and UL-approved resin ribbons. If needed, we can also sell you the right UL-certified thermal transfer printer. Once you create your label in-house, you will need to get approval from your UL representative before you can apply the label to your products.
Why Choose SixB Labels for Your UL-Recognized Labeling Needs?
SixB Labels can provide you with the best solutions for a strong, long-lasting, durable, UL-approved, or CSA-approved label that can be exposed to tough conditions. SixB Labels can supply you with high-quality, versatile, and durable UL labels, and/or the means to print them yourself, for many different applications. If you are considering a UL or a CSA label project, let us put our printing technology to work for you!
Save Time - Email Us Directly With Your UL/CSA Label Questions:
See Related: