At this time of year, it is customary to think about giving. Of course, many of us might be giving gifts to our family, friends, and co-workers during the Holiday Season. In addition, individuals, companies, and organizations think about ways that they can contribute to their communities, which involves giving in the larger sense, and not only at the holidays.
How Does SixB Labels Gift Custom Printing?
Years ago, our co-founder figured out an important money-management principle. He had spent a lot of time looking for ways to give back to the community. However, he also knew that we are in the same boat as every other small business — working within strict financial constraints while trying to make our operating budget stretch just as far as possible. This means, of course, that we will never be able to contribute as much cash to important causes as we might wish.
So as he continued to look for ways to make those dollars go further, he landed on a plan: contributing charity labels for good causes and organizations. These donation labels can take a variety of formats, including Bumper Stickers, Name Badges and Square Stickers Sheets (like our Holiday Gift Stickers Sheets available for purchase).
At SixB Labels, we like to think of it along the lines of that particular old saying, "Give a man a fish, and you feed him for a day. Teach a man to fish, and feed him for a lifetime."
What is the Real Value of Bumper Stickers?
In the case of donation bumper stickers, once we contribute a batch of 125 to your not-for-profit group there are a number of options:
You could ask folks to make a donation of their choice or specify the likes of $10 for these vinyl stickers, which could create more than $1,000 of almost costless revenue for your organization.
You could distribute to prospects and members alike as a branding tool without spending capital. Stickers' value could have a long-term return on investments without the investments.

They can be used to spread the word for charitable causes and events, work as reminders, give us a chuckle, or inspire. See these various examples below.



Bumper Stickers

Donated to

Non-Profit Organizations

Humorous Slogans for Your Work Space/Cubicle Wall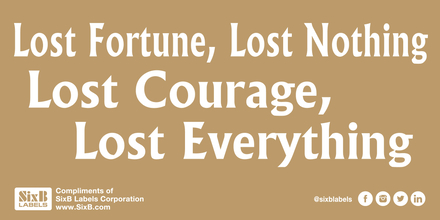 Motivational Messages for a Home-Based Mirror
In short, the sturdy, ubiquitous bumper sticker is one of the most valuable additions to the toolkit of printed marketing collateral. They offer themselves as a medium for messaging in many different environments because they can be utilized as a non-profit sticker in such a wide variety of ways, including:
On a Vehicle's Bumper (Of Course)

As Giveaways & Inclusions in Swag Bags

On Sign Boards & Prize Checks

As Event Branding On Tents & More

On Prosthetics, Wheelchairs & Sports Equipment

Designed With A Specific Message and/or Only Organization Logo

With A Scannable Data Matrix Code featuring a URL Link
Because they are easy to use, eye-catching, and can show up in so many places, bumper stickers are great conversation starters.
What Is Included with SixB Labels' Donated Bumper Stickers:
Durable silkscreen print on vinyl material with removable adhesive

Rectangle shape with square corners in the dimension of 7.5" width by 3.75" height

Quantity of 125 bumper stickers for your non-profit as a single batch
And of course, bumper stickers are not the only printed marketing tool that we can contribute.
How Do SixB's Most Versatile Name Badges Benefit Your Organization?
If your not-for-profit organization holds meetings or organizes/attends conferences, our charity stickers are very likely better than what you might have used before. Beyond saving the expense of garnering donated name badge labels, their flexibility also benefits your organization's reputation with guests.
These pressure-sensitive products could be printed through any laser or inkjet printer and tucked into a standard, vinyl name badge holder with clip and/or lanyard of choice. They are perforated and come formatted with two labels per sheet. Once printed, they could also be applied directly to clothing. Or if you want to hang them around your neck or your wrist, they can be folded over any type of ribbon, shoestring or lanyard and pressed together, making a custom badge holder. They can also be folded over and used as a bag sealer on a meal kit or giveaway bag.
Why don't you save the expense of providing some or all of your event ID by using our free 4" x 3" name badges? We can provide you with a donation of 250 sheets.
What Is Included with SixB Labels' Versatile Name Badges:
Donation includes 250 sheets of two labels, 4" width by 3" height, totaling 500 name badge labels
Almost All Name Badge Labels Are:

Great for all organizations, charities and events.
Suitable for further name personalization with your standard home/office inkjet printers or laser printers
Can be printed by SixB with some standard details like the non-profit logo, using 1 to 8 spot colors, or via the 4-Color Process
On a paper material with an adhesive that won't damage clothing
Individually perforated and sheeted with two labels
Suitable for hand-written applications when printed on matte paper.
How Could SixB's Square Stickers Sheets Help Your Cause?
SixB Labels has yet another printed product that we could donate and that your organization could distribute for branding (in gift bags and/or outreach mediums) and/or make available for individual donations: custom non-profit six-square sticker sheets. These small square stickers sheets are eye-catching, diverse, and offer use graphics and/or high-quality imagery. Consider that a $10 per sheet donation could result in more than $2,000 for your non-governmental organization.
What Is Included with SixB Labels' Six-Square Sticker Sheets:
Donation includes the quantity of 250 sheets, 4.125" width by 6.875" height
The six (6) stickers per sheet are 2" squares
The paper material is offered in either gloss or matte
What If You Need Help With Sticker or Label Design Concepts?
Now we understand the various dynamics of start-up non-profits, or those that have a small and mighty group of volunteers behind them, where getting the stickers or labels is an enormous help but difficulties remain in generating graphic art. Well, with SixB Labels, even if you only have a few design concepts, say, for the six-square stickers sheets, we're happy to share graphics and discuss ideas with you for the remaining four stickers. Above and below are only some ideas to consider.

Option For Up To Six Unique Designs (Without Bleeding) Per Sheet
With 40+ years in business, we are also happy to offer a complimentary consultation on either the square sticker sheets, the name badge labels, or the bumper stickers, and to leverage some standard design concepts we have produced over the years.
Ultimately, SixB Labels is here for you and the people behind your charitable organization as you support your community. Please reach out to us today to add another medium to market your cause and make a greater impact!
Save Time - Email Us Directly With Your Questions on How We Can Help Your Non-Profit:
See Related: