Have you heard the phrase, "Outdoor Label" or "Outdoor Decal" and wondered what that meant beyond the literal meaning? As you might have already considered, labels are used in many environments, and SixB Labels provides custom products designed for the various needs of extreme indoor and outdoor situations. Our variety of labeling solutions meets the requirements of the business, industry, and private consumers. This post provides more in-depth information on labels and decals for outside use.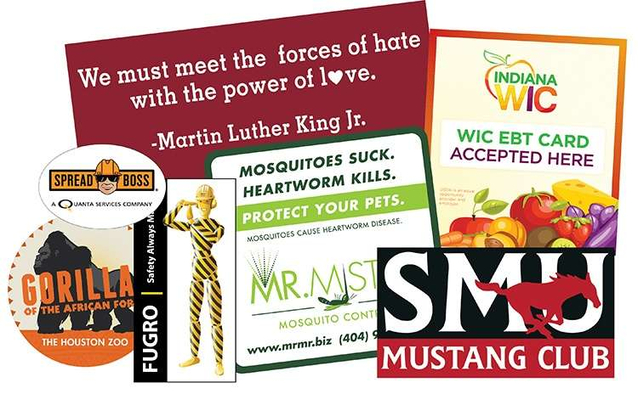 SixB Labels Outdoor Label Solutions
What Is An Outdoor Label?
Outdoor labels may also be referred to as outdoor decals or outdoor stickers, and are created to be durable, long-lasting, rugged, weather-or-waterproof products. During their manufacture, they can be die-cut into a large variety of shapes, suitable for a wide range of surfaces and applications. What outdoor labels share in common is the ability to withstand the stresses of outdoor exposure. These could include almost every outdoor condition — direct sunlight, heat, and cold; wet weather ranging from humidity to rain; oil exposure; and even saltwater — that would prove destructive to a paper label. Their durability and strong adhesive property make outdoor labels a cost-effective, long-lasting solution to a variety of labeling needs.
What Surfaces Can Outdoor Labels Adhere To?
Outdoor labels are designed to adhere well when applied to glass, a variety of plastics, wood, painted surfaces, some fabrics and metal. To ensure good adhesion, it is important when first placing a decal to make sure that the surface it must adhere to is clean and dry.
Why Choose To Use An Outdoor Decal?
There are numerous times when outdoor labels provide the best solutions for a wide variety of environments. These can include their use in industrial settings, such as their placement on tools, machinery, and various equipment for tracking purposes, or their use as safety/warning labels, in hazardous work areas or on equipment that might be dangerous for untrained personnel to work with.
Outdoor decals are also the perfect choice for ID/ tracking purposes, such as their use as vehicle parking stickers, including those that feature consecutive (sequential) numbering systems.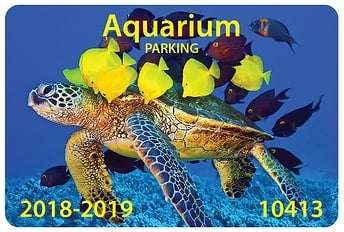 For both residential properties and businesses, they can also be applied as security decals or no-soliciting signs on windows and doors. In addition, they can be placed on indoor items subject to moisture, for example, the glass of refrigerated display cases.
Outdoor labels are the right choice for automobile graphics and are exceptionally good for marketing purposes when used as outdoor promotional pieces. Decals are also ideal as signage, posting everything from store hours to sales, promotions and product branding.
What Sort Of Outdoor Items Are Suitable For Decals?
Decals are designed to be placed on a large array of items used outdoors, such as:
Automobile bumpers and windshields, where decals and parking stickers are designed to adhere to either the outside or the inside of the glass

Large outdoor equipment such as cranes

Large, rugged transport, including motor homes, buses, tractors, and fire trucks

Oil rigs

Weather station equipment

Air conditioning units and fans

Safety equipment and apparel, including protective headgear, such as hard hats or helmets

Exterior doors and walls; fences

Playground, outdoor sports and recreational equipment, and toys

Lawn equipment

Appliances

Truck toolboxes

Trash cans and dumpsters

Boats, jet skis, and other marine transport

Outdoor signage

Bicycles, scooters, and other transport

Pool equipment

Horticultural/nursery labels
What Materials Are Outdoor Labels Made Of?
Outdoor labels/decals are typically produced from various styles of either vinyl or polyester, and each of these materials offers its own features and benefits. Some issues when choosing the right material are whether or not the outdoor label needs to be transparent. For example, when placed on a metal bumper, a standard vinyl material would be ideal, but a clear polyester material will work better when placed on a glass background. In addition, other considerations are whether a decal needs to be temporary or semi-permanent, and viewable from the inside or outside of a surface.
Vinyl Outdoor Labels
Vinyl provides great durability, which is one reason that it is the most popular choice of material for most decals. Due to its high tensile strength, it resists scuffs and tears, and it will work well with a number of different adhesives. Its flexibility also gives it good conformity to surfaces. Vinyl is available with either a matte or a gloss finish.
Polyester Outdoor Labels
Polyester is a versatile material, which is available in a variety of finishes, including a chrome-look surface, as well as a brushed chrome and a white reflective surface. It is also available in a clear finish, making it an ideal choice for window placement when transparency is desired. It offers resistance to chemicals, and its ability to work well with a range of adhesives makes it a highly effective option for decals.

Orange Polyester Warning Label
Static Cling Outdoor Labels
For certain applications, such as a time-limited ad campaign, a static cling may be the best solution. Unlike a regular decal, a static cling, made from thin clear polyester, is designed to be temporary. Despite the name, it uses neither adhesive nor a static electricity charge to stay in place. Instead, when pressed to a surface, such as glass or a non-porous metal, the cling operates like a suction cup. It is best for an interior setting because moisture can cause the cling to slip, and to ensure good adhesion, it should be applied to a clean, dry surface.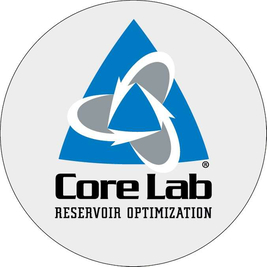 Static Cling Label
A face cling, made to be readable through the glass, is printed on the backside with the clinging property on its front. It works well when placed on car or store windows, clear plexiglass, or glass partitions. A back cling is designed with print on the front and clinging property on the back, and is suitable for use on mirror glass and painted metal or any setting where the design will be viewed from the same side as where the cling is applied.
What Are The Most Common Printing Methods For Outdoor Labels?
Decals and outdoor stickers can be created using a range of printing methods. These include:
Screen Printing - Decals/stickers/outdoor labels are often produced via the screen printing method, which involves the direct application of UV ink to a substrate, that is, the surface to be printed. During this process, the image must be transferred photographically to the screen, which is composed of a very fine fabric. The non-printed areas are blocked off, and the fabric works like a stencil. When the ink is wiped across the screen, it passes through the unblocked pores onto the substrate.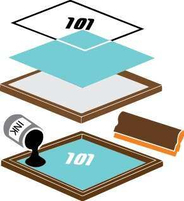 Silkscreen Process
Digital Printing - When using this printing technique, a variety of media are printed from a digital-based image. It employs high-volume laser or inkjet printers. Digital printing costs more per page but avoids the costs of plate printing and can be produced with a shorter turnaround time. It creates a crisp image and is a cost-effective choice for smaller runs of decals.
Offset Printing - Decals can also be produced via offset printing. This method is a lithographic process that involves the transfer (offset) of an inked image from an etched metal printing plate to a rubber blanket, and from there to a sheet of paper. This process works via the repulsion of oil, ink, and water.
Why Choose SixB Labels For Your Outdoor Labeling Needs?
Decals are the best solution for a strong, long-lasting, durable label that will be exposed to tough conditions. SixB Labels can supply you with high-quality, versatile, and durable outdoor labels for many different applications. If you are considering an outdoor label project, let us put our printing technology to work for you!
Save Time - Email Us Directly With Your Outdoor Label Questions:
See Related: