OK, so you have this amazing personal care or beauty product, and developing your custom cosmetic label ideas is concerning because maybe you have never done one before, and/or despite years of experience are having a difficult time creating a new concept. SixB Labels has manufactured an abundance of personal care and beauty product labels over the years — from lip glosses, nail polish, and skincare lines to eye shadows, hair care products, and essential oils. We hope the insights in this post give you the necessary tools to take the next steps when creating labels for cosmetic glass jars, bottles, plastic jars, or tubes.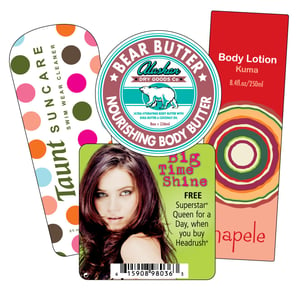 Label requirements might be product specific, but often require it to be moisture resistant to withstand wet environments, particularly oils, and durable enough not to wrinkle, scratch or tear from frequent handling or even being carried inside a purse. Custom-designed labels for cosmetic products may be applied to many different types of containers, including
Labels for cosmetic jars and lipstick tubes
Clear cosmetic labels for nail polish bottles
Labels for cosmetic tubes (mascara, lip-gloss, eye rollerball)
Labels for squeezable bottles, hand sanitizer bottles
Labels for plastic or glass cosmetic bottles
Custom labels must be able to maintain their integrity while accommodating a wide range of packaging materials and surfaces. Materials for these labels range from paper to a large variety of man-made substrates, including vinyl, polyester, and polypropylene.
Alongside packaging, custom cosmetic labels are a prime marketing tool to boost the shelf visibility of cosmetic and skincare products. Vibrant colors, special shapes, frosted finishes, elegant clear labels, all create a visual impact that lends itself to their eye appeal.
Now that the introduction is underway, let's dive into our tips!
No. 1: Choosing the Right Materials for Your Containers:
When having custom labels printed on rolls, your choices are dictated by the type of material used on the container. Polypropylene is the choice for those who desire a clear, no-label look to lend an attractive, high-end appearance to custom labels for cosmetic containers. Various forms of polypropylene include:
Clear BOPP — which is suitable for both glass and hard plastic containers
Crystal FasClear — which must be die-cut, is a clear BOPP with a clear liner, for squeezable tubes and bottles, to obtain a no-label look
Clear MDO — is a less expensive alternative, with an opaque liner, which also must die-cut; it provides a frosted look
Opti-Clear — is another clear polypropylene for a semi-squeezable container, and is less frosted than clear MDO
Properly prepared, custom cosmetic labels made with paper could be a great option for cosmetic containers that are designed as test samples, like as giveaways during product expos. Since they rarely require custom tooling, paper-based cosmetic labels are the least expensive choice, especially when they will be hand-applied to a small batch of product containers.
No. 2: Laminating for Protection

Durability is of much importance. For example, these labels have to withstand product transfer from the customers' fingers. Many cosmetic formulas contain alcohol or oils, which remove inks from the label, or even stain it. In addition, they have to be able to tolerate wet environments. Cosmetic containers are used in the shower, and their labels need to withstand ambient humidity from steam, as well as daily handling. Waterproof cosmetic bottle labels are therefore incredibly beneficial for a number of reasons.
A common solution for ink protection on labels is laminate. The most frequently used laminate for cosmetic containers is polyester, which may be applied in either a gloss or a matte finish. Another alternative is varnish, which protects against both heat and scratches.
When the label is printed on a thermal printer, laminate is available in thermal polyester, which comes in either a gloss or matte finish. Thermal polyester laminate provides a surface for writing additional information using a pen or Sharpie, and allows bar codes, serial numbers and manufacturing data codes to be printed at the time the product is shipped.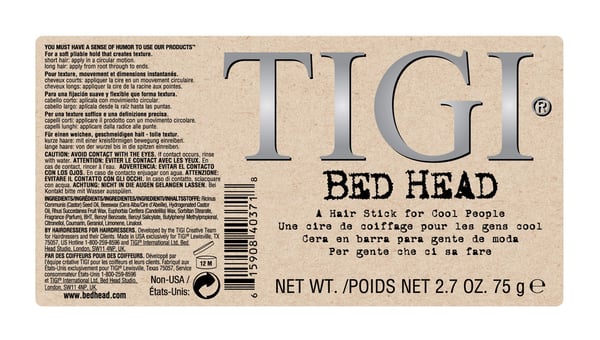 No. 3: Listing Ingredients
In accordance with the guidelines published on the FDA website, the Principal Display Panel (PDP) — on the front side of a package — must feature the Product Identity as well as the Net Weight Statement. This information should be printed on the cosmetic container itself or on a label. A small bottle inside of a box may display less product info because the front of the box is considered the PDP. The Ingredients, Allergan Statements and Manufacturer Information should all appear on either the side panel of the container, or on a label applied to the back.
No. 4: Choosing A Printing Process For Your Cosmetic Label
When producing four-color process labels, flexographic printing is the preferred method for larger quantities (e.g., 2,500 or more). This method can accommodate multiple copy changes. It is also appropriate for one-and two-color orders.
For a lower-quantity batch (such as 250 - 500 labels), especially one requiring multiple copy changes, printing on a digital press is the best solution. This method allows for combination printing, which is a less expensive approach.
For a high-end look, metallic detailing, especially on white and/or clear labels, is often a great choice. (See Rhonda Allison label and its related post for more information.) Labels prepared this way have an eye-catching shine that makes them suitable for many different occasions, including limited-release, holiday or seasonal products. Foil in either shiny or dull finishes is available in both gold and silver as well as a wide range of other colors. These foils may be hot stamped onto labels made of a variety of materials like BOPP.
When creating a plate for the hot-stamping process, the line weight of artwork, including borders or type, must be thick enough to successfully create a consistent image. Another approach, suitable for flexographic labels, is cold foil, in which metallic foils are laid down on adhesive. Cold foil is appropriate for decorative additions of lines and borders. Yet another technique, blind embossing, in which a plate is used to strike a raised design into a metallic label, provides an eye-catching surface as well.
An additional alternative to producing cold or hot-stamped labels is to print with metallic inks. This produces a matte finish, and is best used in a tinted application. Quantities, the type of surface to be printed, and price are all elements that will help identify the best printing process for your project.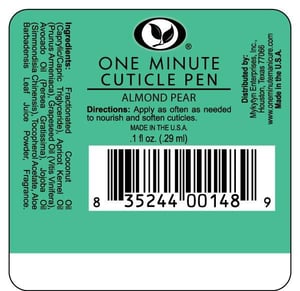 No. 5: Barcodes For Cosmetic Labels
Barcodes are designed to be scanned electronically, via laser or camera-based systems. Information such as product numbers, serial numbers or batch numbers is encoded using barcodes, which enables parties in a supply chain, including retailers, manufacturers, and transport providers, to identify and track products. In general, barcoding is not required for custom cosmetic labels, unless they are for products intended to be sold in a retail setting. In that case, UPC (Universal Product Code) barcodes are normally required on the labels themselves or on the packaging. Such barcodes track both inventory and product information, both within companies and the global supply chain.
Originally developed to serve the grocery industry, the UPC can now be found in virtually every area of retail business, including the cosmetic industry. The unique 12-digit number could be assigned to each individual product as well as the type and quantity of product. The number identifies both the product and the vendor selling it. The barcode is the optical symbol that displays both the unique set of numbers and bars. Note: UPC is the most commonly used barcode in the U.S.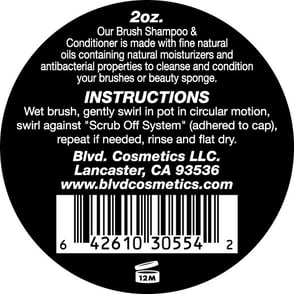 GS1, an international, not-for-profit association, sets standards for barcodes and UPCs, and for a membership fee, will assign a vendor their own codes. Once a vendor has purchased these UPC codes, they must assign unique numbers within their assigned range to their products. Each variant of a custom cosmetic product — for example the size, the color, or the scent — will need its own UPC code.
No. 6: Marketing via Labels
Custom cosmetic labels can have a multitude of functions — everything from price tagging to ingredient decks and inventory control. However, for the purposes of moving product and/or promoting brands, services and ideas, their most important use is as a marketing and branding tool. They are perfectly suited to this function, since consumers will universally encounter labels on retail shelves or even photographically online. They could also go a long way to promote a business or product by featuring a company's or organization's slogan, mascot, logo or brand name. For this reason, they make a wonderful tool for promotional campaigns when applied to giveaway items like samples. In addition, a cosmetic label with visual appeal entices the interest of potential buyers, and a high-quality appearance can only add to the perception of value for a product or brand.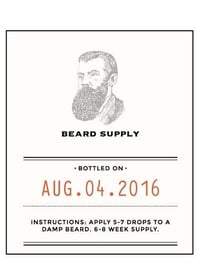 Since custom cosmetic labels could be produced in such a wide variety of shapes and sizes, they can also be applied to many different types of containers, thereby increasing their versatility. Best of all, they can be made with a multitude of finishes and designs to lend eye-catching color, sparkle and shine, a great way to propel marketing efforts. Now, are you ready to develop your custom SixB cosmetic labels?
Save Time - Email Us Directly With Your Cosmetic Label Questions:
See Related: