For the last couple of years, SixB Labels has been very excited about the capabilities of our newest print technology— color digital printing. This blog post will explain a little bit about why we have chosen the approach that we take to color digital label printing, based on ideas such as color theory, and go on to detail the advantages of certain techniques and printing devices to achieve the best results — the widest possible range of complex images, vibrant colors, and extremely high-definition printed digital labels.
What is Color Theory? And How Does it Affect Digital Label Printing?
There are two different applications of color theory: additive and subtractive. Additive color (the color used with a computer monitor or TV screen) consists of red, green, and blue (RGB). At lower values, a mix of these colors creates varying shades of grey. At maximum intensity, all three combined colors create a white image.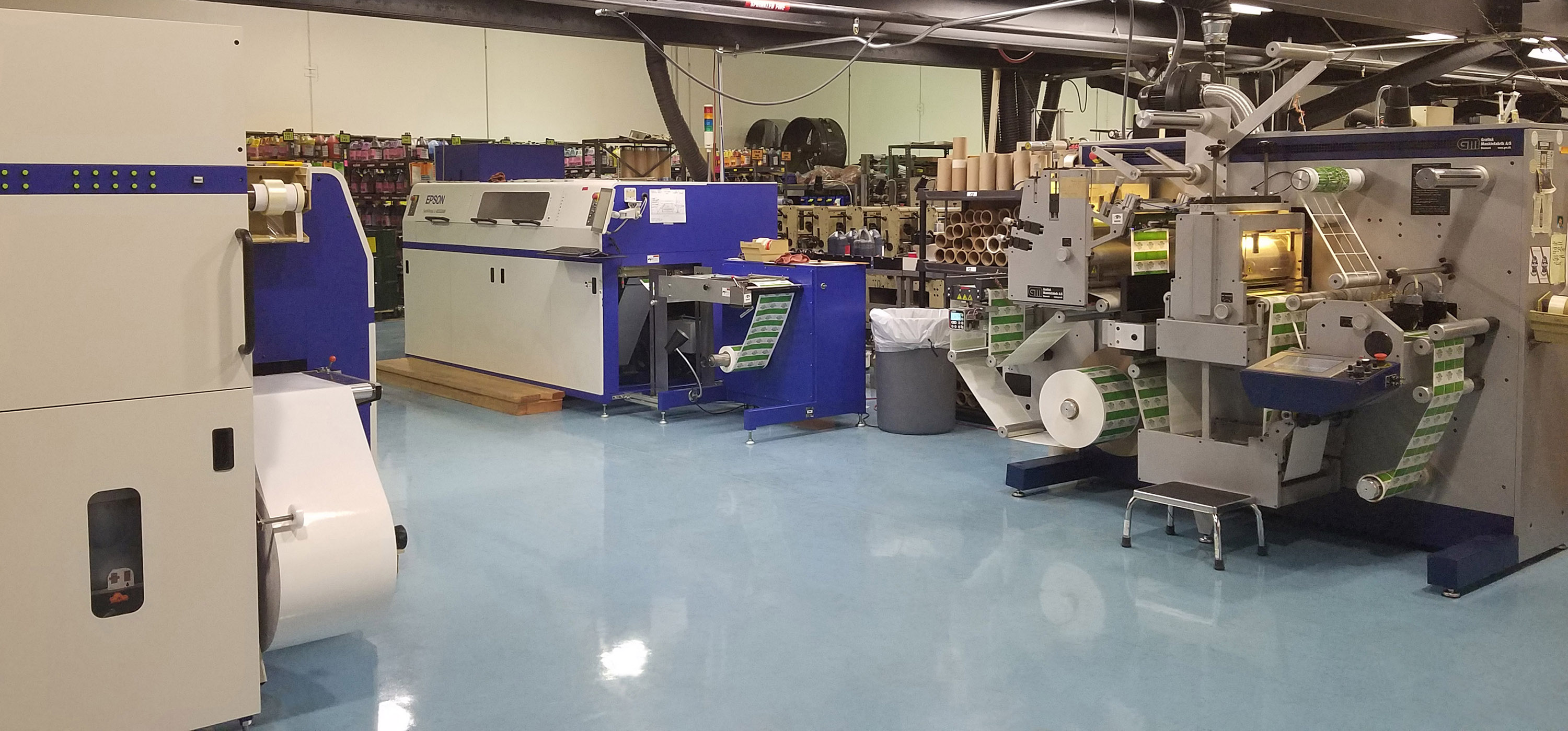 High Definition Digital Printing Presses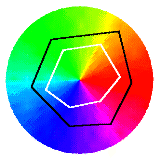 Wasatch
Gamut Capture
Every other object in the material world, however, displays subtractive color. A red object, for example, absorbs all the colors in the white light that hits it, and reflects back a shade of red. But the same object could appear black, depending on the color of that light.
When printing, using subtractive color translates to working with various shades of cyan, magenta and yellow (CMY). These colors operate as filters: to allow the viewer to see these colors, the light must penetrate them, hit a substrate beneath them, and reflect back through the colors. When the colors are absent, the viewer sees white. When all three are combined, the image should appear black.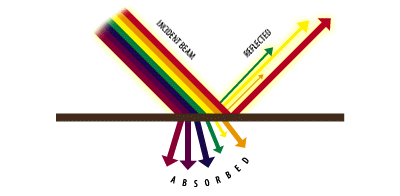 Light Absorbing Subtractive Color
The attempt to create a pure black image requires careful adjustment, because with ink colors, there is no 100% pure cyan, magenta or yellow. Every cyan ink contains minute amounts of magenta, as well as some yellow, and magenta has some cyan and some yellow. Yellow contains minute amounts of cyan and magenta. Combine the three and instead of a pure black, what shows up is a very dark, muddy, grey-purplish shade. To overcome this problem, it is necessary to add in some black (CMYK).
The color gamut of the object being printed has to be considered as well. RGB additive color devices have a larger color gamut than the subtractive color produced in CMYK, so in order to increase that color gamut, two dominant color-mixing methods have been developed:
Combining CMYK with the addition of light shades of magenta, yellow and cyan will result in a bigger gamut of light colors

Mixing CMYK with orange, green and violet increases the color gamut of vibrant colors

Gamut of Colors
The most dominant colors missing out of the CMYK gamut are oranges and greens. Very little truly vibrant violet even appears in natural objects.
In addition, for optimum results, the material to be printed on must be as white and shiny as possible. This achieves the best reflection.
Groups of Digital Printing Devices for Labels
There are two categories of digital printing devices to consider:
Toner-based devices, that is, copiers and laser printers

Ink-based devices, that is, inkjet printers
In general, the colors produced using toner-based devices will not be as vibrant as those produced with ink-based devices. However, there are exceptions.
What Are the Advantages of Digital Inkjet Printing?
Digital inkjet printing offers impressive capabilities that have really modernized the printing industry, with the capacity to produce full, four-color printing and variable data. This technology offers:
Speed: Inkjet systems run at faster speeds, made possible because the printing process allows a much quicker application of ink to paper, and many of these presses have more nozzles to apply ink and additional dryers
Inkjet color quality, which has improved until it matches that of toner printing, particularly when it comes to color consistency
Inkjet printing is more often water-based, which is a green, environmentally friendly choice
What Are the Advantages of Digital Toner-Based Printing?
As the first generation of digital printers, toner-based presses have had the time to evolve, and their quality is typically very high. This type of printer offers:
Accuracy: Using an imaging drum or belt, this technology deposits toner with a precision dot application system, which results in very high-quality printing
A wider selection of colors than is normally available with most inkjet presses, because most toner-based presses can run a fifth station, for one-off colors, red, gold, and clear
Toner-based printers can also run a broader variety of specialty stocks and substrates
To further enhance our printing capabilities, we have recently acquired a Mark Andy Digital Pro3 press. A great addition to our printing technology, it can be configured with conventional or semi-rotary diecutting, and it is outfitted with a hybrid print station. This powerful digital printing press is the ideal solution for short-run digital printing.
Drying Categories of Ink-Based Label Printers
We evaluated two groups of drying methods:
Regular drying

UV-light activated drying
Although we feel that this problem will be solved at a future point, as it stands now, all inks dried via UV-light activation are considered carcinogenic, due to the actuator component of their chemical formulas. For this reason, we generally prefer to laminate our color printing rather than use varnish. Varnishes are less expensive but, since they are essentially a clear ink, they contain this carcinogenic component. For this, among other reasons, SixB Labels decided not to use UV inkjet printers for our digitally printed labels.
By taking note of all of the above, it should be clear why we choose to use our current system of color reproduction. We utilize CMYK orange and green pigment-based regular drying inks (that is, non-UV activated) to produce our colors. In addition, we can protect the labels we print with shiny or matte laminate as well as shiny or dull UV varnish. We can also enhance the look of the finished product with the addition of hot or cold foil, or embossing methods. Learn more about some of our HD Digitally Printed Labels here.
Sato Label Printers
Traditionally, we have never liked the small, clamshell printers. We consider them to be too much like home printers: more or less disposable, and built for a low output. A cheap printer which needs expensive ink cartridges usually means their manufacturing companies operate with much the same approach as a shaving company that gives consumers the handle for free and then charges them an excessive amount for the blades.
Up to this point, small label printers and barcode printers have been easily breakable and limited as far as their adjustability. But the Sato WS408 and WS412 Desktop Series clamshell printers are different, for several reasons. This series was built from the ground up to provide a good, sturdy label printer, and yet to take up the least amount of real estate on your workspace.
Sato® WS408 and WS412 Desktop Clamshells
All of the other small label printers have been designed to use special ribbons on smaller, ½" cores. The Sato Desktop Series is the first of the small printers to take ribbons with cores of from 1 to 1 ½". They do not require ribbon cores to be notched or otherwise specially treated either. These ribbons, which were specifically selected, are not standard. They are premium quality, wax/resin combination ribbons, suitable for a wide range of substrates, including all coated papers, particularly semi gloss and high gloss. They can also accommodate polyethylene film, and all polypropylene films (matte white, shiny white and clear.)
Something to consider is the fact that all brands of bigger label printers are restricted to running their rolled labels on 3" cores or larger, because when labels are wrapped around a smaller core there is a tendency for the tension on the innermost labels of the roll to smash the labels by applying too much pressure. However, the clamshell Sato® printer solves this problem because it can accommodate label rolls with cores in size ranges from 1" to 2". In addition, the Sato Desktop Series can print out stacks of fan-folded labels, via a port on the back of the printer.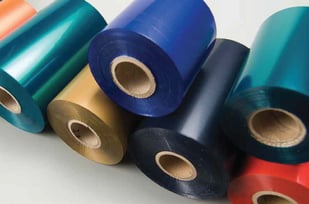 Multi-colored Ribbons
These versatile clamshell printers can run both blank and shell labels, and can print in black and a multitude of other colors including metallics. (In the past the color choices were only Black, Blue, Green and Red.) They will also allow you to print labels in small point sizes without filling in, and provide exceptional smear and scratch resistance.