Here at SixB Labels, in order to meet our goal of Simplifying Labeling for our current and prospective clients, we have developed a white paper on the current Food and Drug Administration regulatory requirements governing CBD product labels. The passage of the 2018 Farm Bill legalized industrial hemp and its CBD derivative products by declaring it no longer a Schedule I substance, and from that time until the present, the regulatory environment for CBD has tended to be lax. Products in a wide range of formats — from vape pens, to topicals, to consumables — have been marketed and sold.
More recently, the FDA has been making moves to tighten the rules for merchants and distributors. They have been sending out warning letters indicating that they believe CBD to be a drug, and restricting how it can be marketed and sold, declaring it illegal to include in supplements or other consumables, or labeled with health claims. And yet some State laws appear to contradict these regulations.
These rapidly changing laws, and the apparent conflict between Federal, State, and local regulations surrounding these products, have created an uncertain environment. Manufacturers and distributors naturally want to avoid getting into trouble with either the FDA or local or state law enforcement agencies, and the inconsistencies in the patchwork of regulations tend to leave those currently working in, or wanting to join, the CBD industry in the dark. We believe this white paper can help guide CBD product manufacturers and distributors on what is legal to include on their labels and in their advertising and social media copy.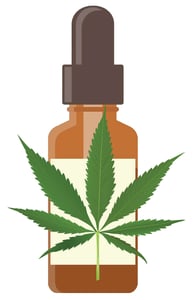 Changes in the following areas impact both the visual format and required information to be displayed:
Principal Display Panel (PDP)

contents

Identity Statement,

e.g., "hemp extract"

Net Weight/Net Contents

format and expression

Name and Place of Business Statement

of the firm marketing the product

Material Facts
Warning or Caution Statements
Ingredient Statement, listing all of the products' ingredients in descending order
In addition to the Farm Bill, as of yesterday, October 29, 2019, U.S. Secretary of Agriculture Sonny Perdue announced the establishment of the U.S. Domestic Hemp Production Program. As required by the 2018 Farm Bill, it creates a consistent regulatory framework around hemp production throughout the United States, in order to meet Congressional intent. Later this week, an interim final rule formalizing the program will be published in the Federal Register. A preview of the 2019 rule is posted on the USDA's website. Updated Jan 2021 here. Also, more information about the provisions of the interim final rule is available on the U.S. Domestic Hemp Production Program web page on the Agricultural Marketing Services (AMS) website.
For more details on the current FDA guidelines, download the white paper today!