A Client Story— Over the years, it has been a real delight to help our client Sandy Korem with her label projects. Sandy is the owner/operator of our client company Festive Kitchen, a thriving catering and food-prep business. Her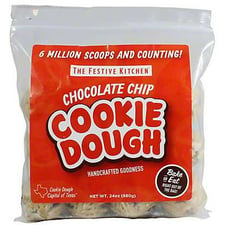 company has been praised by such publications as D Magazine and Park Cities People, and also won a number of awards, including the White House Food Service Medallion.
Since we started working with her, Sandy has shared with us a number of milestones in her career path in food prep and catering. She has also told us how her work with SixB Labels has made it easier for her to sell her products.
Company History
We found out that Sandy is a self-taught culinary artist who started off working solo, baking brownies for a bistro serving hamburgers. When she started seeing a developing, under-served market in the Dallas area — a number of families so busy with events and activities that they had no time to cook — she made her move. Sandy put together a team to meet the growing needs of that market.
She's now served the Dallas area for 26 years. In 1991, her team opened their first takeout store in Richardson on Campbell Road, and then another at the Snider Food Shop on Rosedale Avenue in Dallas. At the shops, they sell 100 hand-crafted food items daily, from a rotating menu of "recognizable gourmet" foods — fresh, delicious, special, but familiar. Sandy calls it "take-home catering." Having visited her stores, sampled the goods and bought some of her dishes, we concur!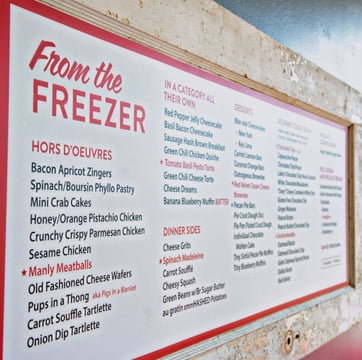 Festive Kitchens' takeout operation has a delivery service, Festive Fast, which brings gourmet meals directly to their clients' doors. They also offer a monthly subscription service which lets clients choose four customizable plans to suit their diets and lifestyles. Daily Necessity is a mix of all the Festive Favorite dishes. Festive Family features ready-to-eat meals for families on the go. Festive Fit is meant for the health/calorie-conscious. Then Festive Freezer lets clients stock up their freezers and enjoy the food at their leisure.
You can find her products all over the Dallas area. Jimmy's Food Store carries select lines of Festive Kitchen's cookie dough balls, and she sells her cookie dough balls and "It's Freakin' Awesome" snack mix at all nine Central Market stores in Texas. You can also buy their "It's Freakin' Awesome" snack mix at AT&T stadium while you watch the Dallas Cowboys.
Sandy's company is now organized into multiple divisions— gourmet food shops, delivery service, catering, and food manufacturing with a staff of 37: bakers, cooks and chefs, as well as drivers, salespeople and event coordinators. They offer weekly entrees, seasonal food for the Holidays, catering platters, corporate lunches, and custom hors-d'oeuvres.
Festive Kitchen caters corporate functions and private events, from REALLY big— as they say on their website, feasts for thousands — to smaller events, including weddings. When a football game takes place at our local university, Southern Methodist University, Sandy caters the event on campus. So you might see the students there eating Sandy's pizza. She also caters memorial celebrations at Dignity Memorial Funeral Home. Ultimately, her focus has always been on customizing the catering experience for all of her clients.
Sandy is the company CEO and founder; Patti Hunter is her Operations General Manager; and Leslie Riddle heads up operations in the takeout shops, as well as a commissary kitchen, a desert production kitchen and a frozen kitchen.
Based on her years of working in the field, she has created an additional business — The Catering Coach — a consulting and training firm for caterers and restaurateurs. Her goal in coaching is to show food professionals how to maximize and hang on to their profits through effective management and the development of multiple revenue streams. Her coaches include two award-winning caterers, Jodi Newland and Patti Howard. You can read more about it at www.TheCateringCoach.com.
Working With SixB Labels
Sandy's first contact with our company was through one of SixB's owners, Bobby Bakhshian. In 2000, she started with SixB Labels printing her Festive Kitchen cookie dough labels in its entirety, and then found that with her changing menu and volume per product it wasn't the best fit operationally. Together, we worked out a solution, switching to printing the labels as shells with the Festive Kitchen logo, on individual laser sheets, and her team them printed the rest of the labeling information on a printer that functioned with sheet paper. We printed this way for Sandy until 2016.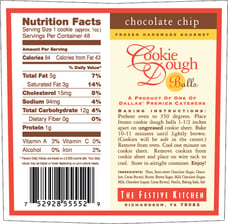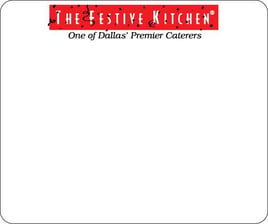 Since 2016, we produce custom-printed labels in their entirety for Festive Kitchen's cookie dough lines and Freakin' Awesome snack mix bags. Also since she has developed even more product lines and required more durable labels, we needed another labeling solution on the takeout dishes. We sold Sandy a Sato® printer so she could print in-house on label rolls, using thermal transfer printing for these updated label shells. She tells us that this move has greatly simplified her labeling process, saving her both time and money, since printing product names and info onto the shells not only lowers her costs, it lets her print just what she needs on demand, so she never has to stockpile large amounts of labels.
Their Product Labels
Sandy's labels follow three basic formats. The custom-printed labels for different types of cookie dough and other lines of baked goods, like brownies and lemon bars, are made of a paper with a laminate, bar coded, and have freezer-safe adhesive, since all of those bakery items need to be refrigerated.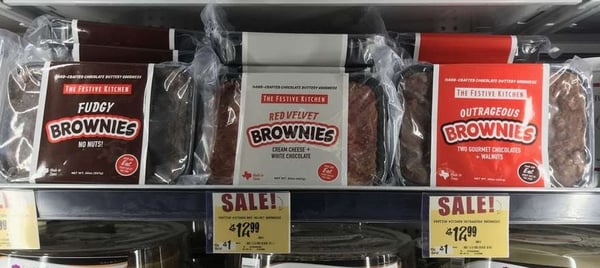 The polypropylene shells are designed for food containers used in catering and take out. The smaller ones are put on container lids and the larger ones get wrapped around the containers. And all of the labels are flexographically printed — it was the only way to get Sandy's shade of red, PMS 485, consistent for all of the labels.
SixB also collaborated with Sandy on creating another label format — the "It's Freakin' Awesome" labels for her snack mix. We suggested MDO, a semi-squeezable polyolefin film, that does a great job conforming to the surface of her product bags. She has always relied on our expertise as far as what materials best suited her labels.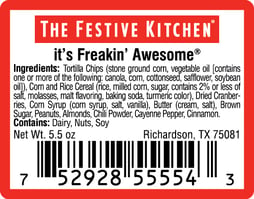 Sandy originated her label design, which needed tweaking for the various product lines, including cookie dough, Freakin' Awesome snack mix and the shells for takeout items. The cut-out window on the front of the Freakin' Awesome snack mix bag was her idea to really show off the product to the consumer, and we think it is pretty clever.
The Festive Kitchen URL is www.FestiveKitchen.com, and the site for their delivery service is www.FestiveFast.com.

Email Us Directly For Answers To Your Labeling Dilemma:
See Related: