This blog post was originally published on the Epson Prime Label blog by Mike Pruitt.
The Epson SurePress has a lot of features, but one of our customers in Texas thought up a few we missed.
At Epson, we strive to make the best products on the market, but we also know that there is always room for improvement. So when Fari Bakhshian of SixB Labels in Dallas, Texas sent me photos of his printer upgrades, I was impressed with his ingenuity. This guy sure knows how to trick out a Surepress printer. (Meet Fari in person at WestPack in Anaheim, CA at Booth No. 5707 February 10-12, 2015.)
When I spoke to him about it, many of his modifications and additions were for practical purposes that allowed his busy print shop to work efficiently. One of my favorite Fari innovations was the gurney for easy access into the machine. "Gurney" isn't really the right word for it, as it looks more comfortable than any hospital bed I've ever seen. I asked Fari about his reasons for creating this wheeled bench.
"Everything is within reach," explained Fari. "It's a delicate piece of equipment, so giving the operators a comfortable position means they're able to do a more thorough job cleaning the heads." Plus, the bench's ability to slide in and out of the printer's insides prevents the operators from bumping their heads or hurting their backs.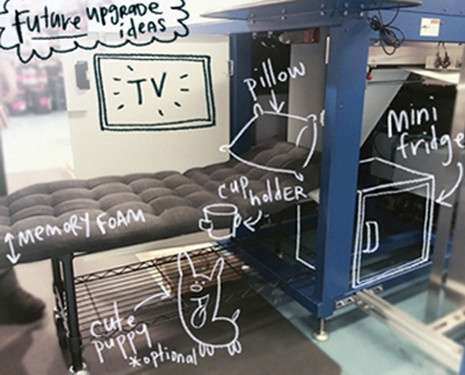 Nothing can be engineered to fit every press operator comfortably, and that includes designing for a person's height for access to the interior of the press. But Fari created a simple step that enables any of his staff under six feet tall (including himself) to look inside the press without using a stepladder.
Another of Fari's additions to the SurePress is due to the low humidity of Texas weather. Although it doesn't look like much—something left over from the holiday party, to be honest. But Fari says that when a web of paper blows through his press, it can be like "constantly dragging your feet on the carpet." This simple bit of specially made copper dissipates the static and neutralizes any potential charge.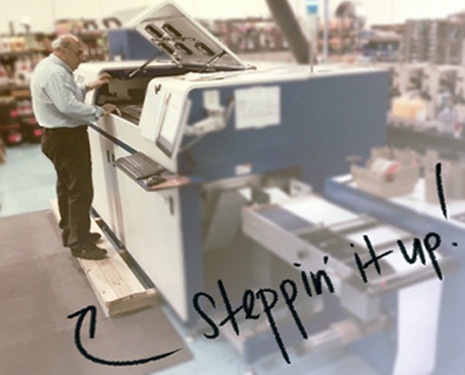 Fari is also a big believer in creating tools and procedures that make it easier for employees to avoid mistakes. As long as humans are involved, says Fari, mistakes will be made. The SurePress can run a roll of material in eight different ways, so Fari created labels and markings on the machine to make remembering those configurations easier. "If the job calls for position three, the labels are there to ensure that the press is in position three when it starts printing."
All of the ideas for this tricked-out SurePress came from the collaborative effort, even the tape dispensers, and the organized cleaning supplies. The team came up with suggestions, the art department designed it, the print team produced it, and it went on the press. When I asked him if any more modifications were in mind, he said yes. "There are a couple more things in the works," he says of his SurePress. "It's a work in progress." Should I warn the Epson engineers?
The Epson SurePress L-4033 is a short-run digital label press sold worldwide.
See Related: