Anytime someone asks my father what SixB Labels' minimum order quantity requirement is, he simply responds, "One." Now he, Fari Bakhshian, SixB Labels Vice President, is being completely genuine with this statement, believing projects with smaller quantities shouldn't have barriers to high quality design and functionality. Of course the cost of one label could be the same as 100 labels; and if you really don't want the other 99, we won't ship them to you.
If past years are any indication, this will probably be the No. 1 judgement question we will be asked during one of the largest annual packaging trade shows, WestPack, taking place at the Anaheim Convention Center, Booth 5474, February 6-8, 2018.
We understand the judgement call: labels are only one aspect of your new or current products, and beyond paying for labels you might never use, storing them is no joy either.
"Our family's small business understands the dynamics of size in the manufacturing industry," Fari Bakhshian says, "and we work with you as your products and company grow."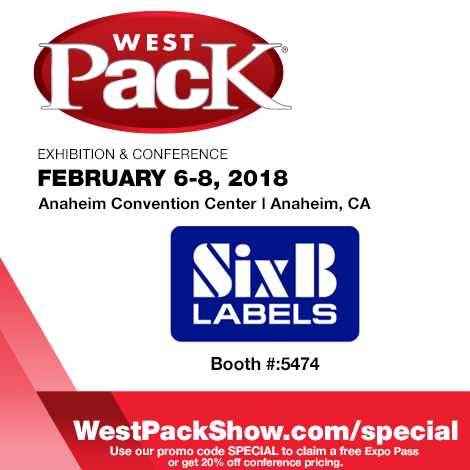 While SixB Labels has been providing custom labels, barcodes, and labeling products for global corporations, small businesses and start-ups for 38 years and counting, a particular focus at 2018 WestPack is on offering solutions for those entities who have multiple products with smaller volumes and even tighter budgets.
One's budget should not bar them from high quality labels, and SixB has all sorts of options to develop product labels for various price points, functionalities, materials, number of colors and beyond. SixB offerings vary: from printing labels end to end; to bundling packages with either single or multiple color printing; ribbons or ink; label design software; blank or shell labels; and any combination in between.
Ultimately, seeing is believing, and we encourage you to join us at WestPack this year. Here's a handy Checklist to get you ready for the show!
SixB Labels WestPack 2018 Checklist
Register For The Show — Visit registration site here and use code "

SPECIAL

" to receive your complimentary expo pass and/or 20% off conference pass!
Schedule a 15-minute Strategy Session with the SixB Team — Make more use of your time during the show where you'll have a dedicated time to talk about your product and goals. Click here to schedule your meeting!
Bring Specs and Thoughts — to our Booth 5474 and get ahead of your next labeling project!
We look forward to connecting with you at WestPack!
Clip from SixB Labels Booth During WestPack 2016