As we enter the 20s of the 21st Century it will be interesting to see how spectacular the decade will truly be. The SixB Labels family is optimistic about what the new year and decade will bring. Trade shows have their own "roaring" natures and for being one of the largest annual packaging events, WestPack Anaheim is no exception. This is why we are happy to exhibit in Booth 5152 from February 11-13, 2020 at the Convention Center. We invite you to join us, and if by any chance you won't be in Southern California on these dates, ask you to stay tuned for some offers we will also make available to you, our blog readers!
While you continue to read our post, let us first go through this Checklist to get you ready for the show!
SixB Labels WestPack 2020 Checklist
Register For The Show — Visit registration site here and use code "

SPECIAL

" to receive your complimentary WestPack Expo pass and/or 20% off a conference pass!
Schedule a 20-minute Consultation with the SixB Team — Make more use of your time during the WestPack trade show where you'll have a dedicated time to talk about your product and goals. Click here to schedule your meeting!
Bring Specs and Thoughts — to our Booth 5152 at WestPack Anaheim and get ahead of your next labeling project!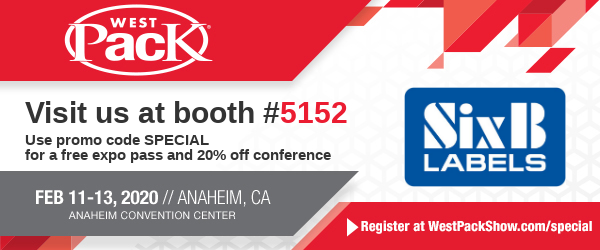 Our 2020 WestPack trade show booth experience will of course entail samples of our labels, as well as innovative highlights of the barcodes, labeling products and additional services we provide as your one-source label manufacturer. All the while, beyond the product showcases and demos, we really look forward to meeting and hearing from you.
What is your current product or service story? How do you plan to go to market? What role is labeling playing in your business at this time? Where do you want your labeling ultimately to be?
As much as we attend trade shows to shine a light on our unique value proposition, it is the relationships that could form for the immediate minute(s), or the more detailed communication on labeling projects, that is what it is literally all about. Because even while they have the merit of efficiency, human connection can get lost in day-to-day email communications, instant chats and so on.
Also at SixB, we are self-aware enough to know that Custom Labels, Barcodes and Labeling Products are not the only goods one would be looking for. The WestPack trade show also features exhibitors in Food & Beverage Packaging; Design and Product Development; 3D Printing; Robotics and Automation; and Contract Manufacturing. If that weren't enough, your complimentary WestPack Expo badge [Use Code "SPECIAL" to register] also gives you access to four additional expos spanning Medtech; Smart Manufacturing; Plastics; and more Automation — all on one floor.
These members of the SixB Labels team, pictured above, look forward to connecting with you at WestPack Anaheim and beyond!