ESSENTIALS SERIES | We are kicking off this blog series on essential product labels, looking at how businesses are rising to the occasion of the COVID-19 health crisis offering products like hand sanitizers to fulfill those deemed "essential needs." Keeping in mind that during this unprecedented period in our history, SixB Labels has a special responsibility to stay open safely — with more information on our operations here in the blog post "We're Here For You." — particularly serving industries such as those in medical, healthcare and food & beverage.
Facing a shortage of essential cleaning supplies we are seeing numerous entities forming, adding to, or even changing, their production lines to include hand sanitizer products. More and more operations are offering these sanitizers for free to the likes of municipalities, discounted prices and/or maintaining typical pre-high-demand price-points. SixB Labels has joined the effort from donation initiatives to prioritizing production on these essential hand sanitizer labels. This piece will focus on hand sanitizer labels in variations of design, technical specs and printing options.
1. The Basics of Hand Sanitizer Labels
Similar to cosmetic labels, these hand-disinfectant-bottle labels have to tolerate a variety of environments as they will be used indoors and outside through every day life experiences. Elements to consider include:
Hand sanitizers themselves are liquids that could spill onto bottles, packaging as person uses them requiring label materials and finishing that allow for durability. This could be through the likes of film materials or paper materials along with finishing matte or shiny or lamination.
On a similar note with personal sanitizer bottles being placed in the likes of handbags and clothing pockets, they require the labels to also include such durability finishing to be sturdy enough to resist scuffing, smudging and tearing.
Commonly, personal use hand sanitizers are small enough to fit into 1, 2 or 4oz bottles and their labels will then need to be even smaller for sizing needs.
Larger sized labels scenarios are typically for refill bottles, containers and even stations, starting at 8oz and up. Used by multiple individuals, the outside of this container could regularly be sanitized as well.
Whether the labels are hand or machine applied to the bottle, in most situations a single label is printed and wrapped around a bottle for efficiency in fulfillment of the hand sanitizers.
Subsequently a single product label could extend to overall cost saving measures from purchase costs to time in developing the final product packaging.
2. Larger Labels With Simpler Designs
The ability to adapt one's business has been influential during this pandemic for the business itself and those on the front line and the general population in need of high demand supplies. In the Liquor and Spirits Industry we are seeing a movement into a hand sanitizer product line with distribution for sale, donation to public entities or a combination of both. In coming months and years as this period is investigated more we will truly learn the scope of these business motivations and whether they include a sense of civic duty coupled with less demand in their regular lines with restaurants only open for takeout and bars and lounges closed.
Different from their beverage lines with more stable lifespans — where significant brand testing and evaluation would take place — these hand sanitizer labels could be used limitedly for a temporary product. Additionally since time is of the essence in making the hand sanitizer available, simpler designs and utilizing bottles intended for other purposes are most efficient. Two of our whiskey company clients chose prints with simpler designs and larger sizes to fit bottles able to fill 8oz/236ml and above.
Herman Marshall Hand Sanitizer Labels collaboration, from left, completed product; bottling with whiskey labels in the background; and label roll on applicator machine.

Photos by

Lauren McClure
As COVID-19 began to unfold in Texas, our Garland-based client Herman Marshall Whiskey/Dallas Distilleries asked us to join a special collaboration to provide ALL of the resources required for the production of hand sanitizers to then donate to the City of Garland first responders and medical community. With great honor, we joined this collective — donating labels and their production services — also including Plastipak, a manufacturer of plastic containers, and Intrinsic Smokehouse & Brewery, who is also offering a free bottle per customer.
The labels in this particular scenario called for a single wraparound white semi-gloss paper with black ink prints and lamination for durability. Then with the 8,000 volume — with the previously expected to be lemon juice bottles — flexographic printing a one-color label made the most sense. The pictures and video, above and below respectively, give great insight — an opportunity to geek out, if you will — into the overall production process. Some highlights for us include Herman Marshall's assembly line for the hand sanitizer solution — with whiskey bottles already labeled with the multi-color and textured varnish labels we typically produce for them in the background — and the semi-automatic label applicator device to place the labels on the bottles.
| | |
| --- | --- |
| | |
From left, collaboration story video courtesy of the City of Garland; photo of representatives of the entities in the collective including from left: Intrinsic's Cary Hodson, Garland Mayor Scott LeMay, HM's Russel Louis, SixB's Farzin Bakhshian, City of Garland's Water Utilities Matt Hosek.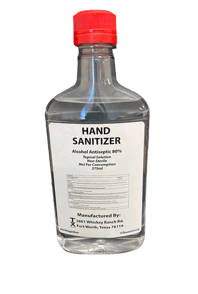 TX Whiskey's rectangle - 375ml bottle label
Similarly, our client TX Whiskey, pivoted their operations starting in March to meet the sanitization shortages. The Fort Worth-based liquor brand has made 800 gallons of sanitizer and counting, as they ramp up production in multiple sizes and packaging donating directly to likes of FEMA and State Emergency Management. While time will tell where their production path will continue to progress, initially it appears getting the hand sanitizer out to first responders as quickly as possible leveraging available bottling has been key. The label we printed and depicted in the photograph here was for the approximately 5,000 bottles filling 375ml of sanitizer. The design focus is predominately information and ingredient based. Also the larger volume, size and single color of this rectangle with rounded edges label to fit the front side of the bottle lead to a flexographic print with semi-gloss paper, black and lamination.
Witty Cosmetics is another client taking a simplistic label design focus and also doing so for a product that launched its overall lineup in the midst of the pandemic with an expectation that it will have permanence. Its womxn millennial founder and CEO Melody Zedgh weaves her background with roles in makeup artistry and Corporate America retail into the company's offerings. The hand sanitizer is vegan and cruelty free, with camphor & eucalyptus infused with Vitamin E alcohol antiseptic and presented in a fun and approachable environment being called Social Distancing Spray. Taking into account the volume of labels required for launch, utilizing a white polypropylene material and black ink with a shiny self wound laminate was both cost effective and on brand, applying to clear 60 ml glass bottles. Literally the colors of life and nature are being leveraged in their marketing and the label simply complements their message.
Witty Cosmetics' Social Distancing Spray hand sanitizers
3. Smaller Labels With Design Complexities
Now let us take a glance at personal use hand sanitizer label bottle labels with the new product by ViruZZhield. Their all-natural and moisturizing face and hand sanitizer is up for retail within a 1oz/30ml bottle. This client has taken a strong branding approach to their label design to help establish itself in the niche consumer market.
ViruZZhield's face and hand sanitizer bottle wraparound and multi-colored label
The single wraparound label for a smaller bottle also takes steps to reflect its infusions and organic elements via multi-colors and fonts while meeting functional needs for a product label going directly to consumers, including likes of ingredients and a barcode. Subsequently, this start-ups' petite rectangle with rounded edges label was printed HD Digitally with a semi-gloss paper, multiple-colored inks and finished with lamination. This design lends itself for future product lines featuring different essential oils and beyond.
Long before this pandemic we also saw the utility of hand sanitizers in daily life and like many other businesses had it as a giveaway for our trade show booths, donated to non-profits as part of fundraising events' swag bags and so on. All the while the team here at SixB wanted the label to standout while reflecting our capabilities. So we included: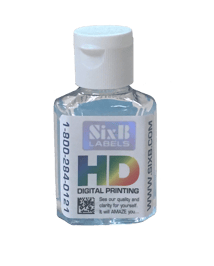 SixB Labels' hand sanitizer giveaway, highlighting various printing capabilities we offer
4. Pre-Purchased Labels & Supplies To Print On Demand In Office
Over the years we have developed a very appreciatively robust business relationship with Kreation and its over 14 organic cafe and juicery stores in Southern California. SixB provides labels printed end-to-end as well as pre-printed label designs with blank areas for additional printing later, completely blank labels in multiple shapes and sizes, digital thermal transfer single-color printers, printer ribbons, label design software and respective training. This has given the Kreation team significant flexibility in branding their diverse product line of takeout foods, baked goods, juices, soups, and more, including established product lines and those still being tested.


So with the combination of hand sanitizer shortages and sheltering orders requiring only takeout and delivery orders, Kreation quite quickly turned around a giveaway for each order. They took a blank kraft special shape label (some might use for seals, anniversary markers), black ribbon and printed their design — with logo, product name, campaign slogan — on a Sato CLNX printer. Kreation was efficiently able to adapt and help their customers with an infrastructure we helped them develop for day-to-day operations as well as those unexpected situations businesses could find themselves in.
Kreation Organic is offering a free sanitizer with takeout purchases and their bottle label was created in-house with supplies previously purchased from SixB Labels.
As we continue to navigate this COVID-19 Pandemic and its effects on our lives overall and the economy what remains constant is that the SixB Labels family is here for you and your business. This is true regardless if your label needs fits into the essentials products category like hand sanitizers or not. We look forward to connecting with you more in the coming days, weeks, months, year — whenever the time is right for you.
Save Time - Email Us Directly With Your Product Label Questions:
See Related: