Client Chats Series — Talking with Erin Freeman from our client company, Good Vapes, a supplier of hand-crafted e Liquids and vaping hardware, gave her an opportunity to share her vision and passion for her company. As she filled us in on its past, its current growth, and its prospects for the future, two important points emerged from her company story. These are the impact on her business of a fast-moving, ever-changing regulatory environment for her product lines, and the significant role that SixB Labels has played in the growth and success of her business.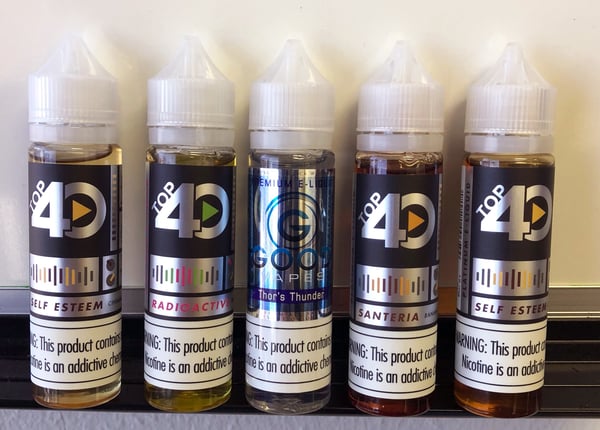 Digitally Printed Vape Atomizer Labels
E Liquid Labels: Good Vapes Client Chat
Company History
When, where and how did your company get started?
Here in the Dallas area, when we began searching for a smoking cessation tool, my husband and I could only find a disposable Chinese product, like a single cigarette, which did not perform well. Then a neighbor referred us to a mom-and-pop store in Denton with a better, "pen" style vape product using an atomizer and battery. Out on the street, complete strangers saw us using these and kept asking us about them. That happened often enough that we decided to sell them ourselves.
After a lot more searching we found an eLiquid source and started a kitchen table business here in Dallas in 2007, selling vaping products. Initially, we relied on word-of-mouth marketing, with a lot of face-to-face contact with prospective customers. We hosted product parties and handed out samples to friends who would network for us.
Really, the single biggest hurdle we encountered at that point was sourcing an adequate supply of liquid. Until 2011 we could only purchase individual bottles of eLiquid from China, with flavors that were not all that great and misspelled labels. Eventually, we were able to source the liquid in bulk.
How long have you been operating in Dallas?
In February of 2011 we switched to a production setup in a 600 square foot suite located in a business park, and in 2012 we were able to open two brick and mortar storefronts in Dallas.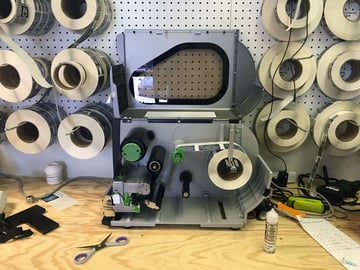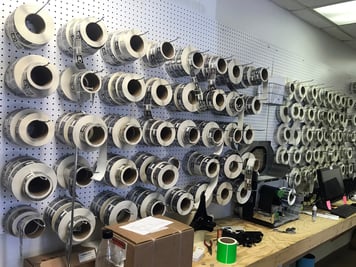 What is your role in the company?
As an owner, I wear a multitude of hats — I'm involved in all aspects of manufacturing, distribution, and retail sales. If you walked in, you might find me involved in production as well as running the business side of things. Robert Ortolani, as Operations Manager, is involved as well.
Working with SixB Labels
How did you decide to become a SixB Labels client?
Robert searched for a label provider online, but we also did local research, walking and driving the area, which is how we actually found your company. We have always relied, not just on online resources, but also on real-life, face-to-face research as well as marketing efforts, and it paid off. And it didn't hurt that both SixB Labels and Good Vapes are in the same business park!
How have we simplified the labeling process for your company?
The fact that you maintain a professional in-house design team has been very important to us. It has made it simpler to produce different versions of our labels and to respond quickly in order to make any changes that the FDA requires. Also, the fact that SixB Labels can provide us with so many options for label colors, materials, and styles makes that process of change simpler.
Your eLiquid Labels
What is the anatomy of your eLiquid labels (e.g., barcode, hotstamp, materials involved?)
We have two label styles. Both labels are made of silver BOPP. The original Good Vapes label is laminated and the Top40 label is matte.
Who originated your label design/format?
I came up with the initial design concept, and then I worked with a designer who used Adobe Suite products to give me my final design versions.
Was it finished when you brought it to us or did it need to be developed further?
It still needed tweaking to ensure that it correctly displayed all the required information. That has been an important point because the FDA has both added and changed the information and display requirements for our product labels.
Currently, what is the look of your label intended to convey to customers?
The Good Vapes label, for our original product line, is shiny and includes a halo-style image, to signify loyalty and service to our customers at our brick-and-mortar stores. The Top40 label's matte silver surface is meant to resemble the surface of a mixing board in a recording studio because it represents music and fun.
Over time, do you intend to develop new product lines? Will you need new/different labels for those lines?
We absolutely will continue to develop new product lines. We are always adding new flavors, which are featured on our website under "New and Sale Items," and every new product needs a new label. Of course, under current FDA guidelines, we continually have to register new products, because every time we add a new flavor, change the amount of nicotine in a formula, or change bottle size, for FDA purposes, it's a new product. We had so many product registrations to submit, the FDA website couldn't handle it! They had to let us submit our information on diskettes.
Have you changed your eLiquid labels over time? Why?
Changing our labels is an ongoing process for us because FDA regulations on our products keep changing, sometimes within the same year. It has been a real challenge to be responsive to their requirements. We have been tasked to keep on moving, altering and re-sizing information on the labels, and sometimes making all the parts fit feels like playing a game of Tetris!
Have your label changes been part of rebranding?
Yes, because over time, we found ourselves looking at a market beyond just the idea of vaping as only for folks who wanted to stop smoking tobacco. So, in addition to our initial Good Vapes product, we developed our Top40 line to meet that market. The Top40 line of products was created to be a recreational, good tasting, lifestyle product, not a substitute for tobacco. Everything from the label to the website and our Instagram account are all designed to emphasize that point.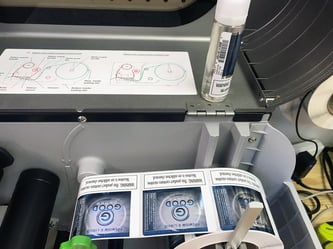 Quick Notes
SixB Product: Product Labels
Applying To: Plastic Atomizer Bottles
Materials & More:
Silver Bopp
4 Color Process
Rectangle Shape with Round Edges

Save Time - Email Us Directly With Your Label Questions:
See Related: