Labels used for addressing/mailing and packaging/shipping are the worker bees of the custom, pressure-sensitive label world: while they are everywhere, they seldom get the notice they deserve. However, properly printed and utilized, they could make a vital contribution to a business — facilitating commerce, for example; or classing up correspondence; and even furthering branding strategies.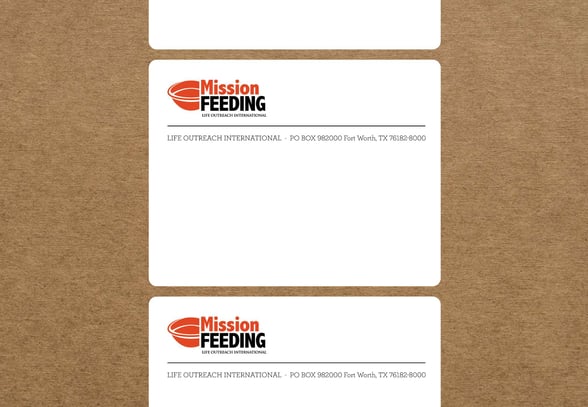 SixB Can Provide Roll Labels To Allow For Automatic Dispensing on Boxes
How is SixB's Approach Different with Shipping/Mailing Labels?
Here at SixB Labels, we take a somewhat different approach to the use and production of these products. Traditionally, most people have their company name and information printed on large (e.g., 9"x 12") white or manila-colored envelopes, when sending folders or other pieces of collateral. We suggest a better alternative: rather than buying stationary, such as a folder, and having your company name printed on the corner, the use of a custom, pre-printed mailing or shipping label gives you more latitude. We can offer you a variety of label styles and shapes, and as custom printers, we can produce your label to be the perfect size to meet your needs.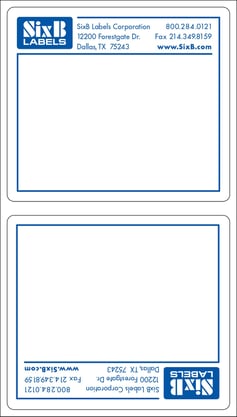 Vertical 2Up Laser Mailing Label
What are Some of the Best Ways to Use Our Mailing/Shipping Labels?
Our custom, self-adhesive labels can be used to address a wide variety of collateral materials, including proposals, folders, newsletters, postcards, envelopes, and smaller packages. Scaling up, we can also print custom shipping labels to accommodate boxes, containers, over-sized packages and even cargo.
This versatility lends itself to many other business applications for these types of labels. Our labels function not only as mailing and shipping labels but as address labels as well. Because we do not have to print a "TO" on these address labels, they can function as ID labels as well. Some examples: they can be used as identification on files; printed with style numbers and put on samples of fabric or other goods; or placed as ID on the backs of photographs.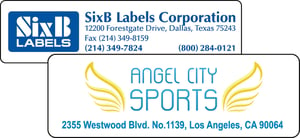 Traditional Address Labels Are Available As Well
What Materials and Printing Options Are Available with Our Mailing Labels?
For mailing labels, you can choose from a number of types of materials, such as:
Papers, including:

Matte
High-Gloss
Semi-Gloss
Synthetic Materials, such as:
This range of stocks will allow your address to be written or printed smoothly and easily. And, as with all of our high-quality print products, these labels can feature-rich, saturated colors and always provide crisp, clear printing.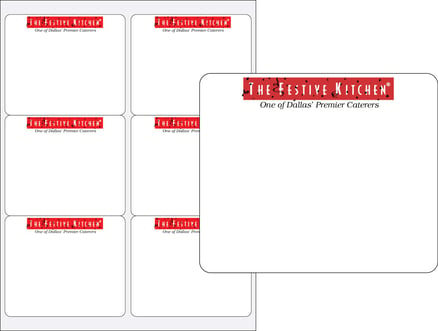 Mailing Label and/or Shipping Label Pre-Printed on 8.5" x 11" Laser Sheet
(This example doubles as an ingredient label for a catering company. Addresses are added later since they have multiple manufacturing locations.)
We can also offer you a number of printing options, including prints in:
Ink
Hot Stamp Foil or Embossed Foil
Cold Foil Stamp for Higher Volumes
Branded Versions with Logo and Address
Tinted or Printed Shells
Blank Outputs Ready for Handwriting
Roll or Sheeted Label Formats
How Do You Use Our Labels in Your Printer?
In an ongoing effort to provide top value for your money and make our printing the cost-effective solution for your business, we have devised a number of approaches to help you avoid waste and make your printing with our products more efficient. Again, our approach is a bit different than that of our competitors.
While we can sell you many of the same items that other companies provide, we believe that our products are a little better designed. For example, all of our competitors seem to feel that when you run a standard, six-up sheeted shipping/mailing label through a printer, you are planning to label and send out six items at a time. But in practice, this is rarely the case. Instead, the printing is generally being done for only one or two items and the other labels end up being wasted, because, based on their positions on the sheet, there is no printer that will accommodate them.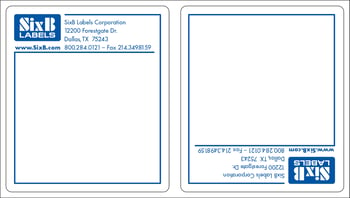 Horizontal 2Up Laser Mailing Label
The image above shows a layout that allows the label sheet to be removed and put back into the printer with the directions reversed.
What Printing Options are Available With Our Shipping Labels?
We produce the following Shipping Labels:
For Dot Matrix Printers

Pinfeed and Fanfold Formats
Up to 10" Wide
Perfed between Folds
For Thermal Transfer and Direct Thermal Printers
For Copiers
For Some Types of Inkjet Printers
Our Shipping Labels are Available in the Following Materials:
For Pinfeed & Fanfold: E.D.P Paper w/ Permanent Acrylic Adhesive-50 Lb. Liner
For Thermal Transfer: Coated Thermal Transfer Paper w/Permanent Acrylic Adhesive-40 Lb. Liner
For Rolls: Coated Litho Paper w/Permanent Acrylic Adhesive-40 Lb. Liner
For Laser Printing: Coated Laser Paper w/ Permanent Acrylic Adhesive-50 Lb. Liner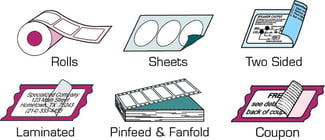 Formats Available From SixB
In a high-tech world, high-touch products such as custom mailing labels printed with colored inks on high-gloss paper, or custom note-cards, packaging, and envelopes, help to impart a personal touch to your business and social exchanges. They can play a vital part in a branding strategy, allowing you to label your mail with your company logo in your own unique style. Used along with other custom self-adhesive products, they can help to provide a uniform look to all your correspondence.
What Can SixB Labels Do for Your Shipping and Mailing Projects?
If you are thinking about having custom mailing and/or shipping labels printed, we are more than ready to discuss how we can best meet your printing needs. Contact us today to get started on your custom label project!

Save Time - Email Us Directly With Your Mailing/Shipping Label Questions:
See Related: