Client Chats Series — Our client company, Dallas Distilleries, maker of the Herman Marshall brand of Texas whiskies, hides in plain sight off the main road in Garland, Texas, amid sprawling warehouses in a business park. Behind an unassuming façade, fronted by a shop selling whiskey by the bottle, sits a cavernous space full of open-top cypress fermentation tanks and white oak casks, where a big gleaming pot still, like an engine from a steampunk movie, holds pride of place.
I participated in one of their weekend tours, full of history, chemistry and fun. We listened to an account of how the whiskey is made, sampled bottled products, including bourbon and rye, and tasted the sour mash as well as the white dog — the new whiskey before it is aged. Along with other customers, I got to fill, cork, and label the bottle of bourbon I bought. Then Herman Beckley, who leads the tours, sat down with me to share some more details of their company's history and explain how their experience working with SixB Labels has helped them to showcase and sell their products.
Company History
When, where and how did your company get started?
I met my business partner, Marshall Louis, about 17 years ago, when we were both buying coffee at a Dallas Starbucks. We started talking and hit it off. Friends joined us as these coffee talks became a routine, and the discussions eventually turned to business. At some point, Marshall and I discovered a mutual interest. He came from Cape Town, South Africa, which is wine country, and had many years of experience in the spirits industry. I grew up in Indiana, where the farmers supplied distilleries with corn. I was working as a software developer but along the way, I had developed a passion for whiskey.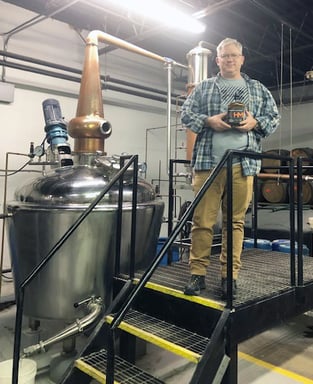 Over several years time, we created a business plan, and eventually, we opened a distillery. In 2012, Iako Schuster of the Garland Economic Development Partnership convinced us to move our business to Garland, telling us, "The best manufacturers in Dallas come here to Garland because Garland is where you go to make stuff!" So we relocated the distillery, and we've been here ever since.
What is your title and role in the company? And what does Marshall do?
I am both a co-founder and co-owner of Dallas Distilleries, just like Marshall, and my title is Master Distiller. I like to say that I am everything inside of the bottle — the technology of distilling — and Marshall is everything outside of the bottle, sales and marketing.
Your Web site, states that your company won the Silver Medal and received a 93 point score for Texas Bourbon at the 2013 American Distilling Institute's Annual Spirits Competition.
We also won the Gold Medal at the San Francisco International Whiskey Competition for our Small Batch Rye Whiskey.
Working with SixB Labels
How did you decide to become a SixB Labels client?
While working in construction years ago, Marshall happened to meet SixB Labels' Bobby Bakhshian. And at the time Marshall was licensed to make whiskey and already blending it in barrels and knew we would soon be needing a logo designer. Then SixB Sales Manager Farzin Bakhshian was able to provide us with a referral to our current agency, Caliber Creative.
How have we simplified the labeling process for your company?
We find working with SixB to have made the process faster and customer-friendly. Your plant is very close to our distillery, so we can come down anytime to pick up our labels, which saves us time. Also, Farzin always keeps anywhere from 500 to 1,000 of our labels in stock. Although our highest demand is from October through December, the market is not always regular and the demand can be larger than expected at any point, so in this way, we never risk suddenly running out of labels.
Your

Labels
What is the anatomy of your label (e.g., barcode, hot stamp, materials involved)?
Our labels are printed on wet-strength paper, which contains plastic fibers, and works well for wine, beer and spirits labels, because it means that the varnish will not come off of the label if it is immersed in a bucket of ice. Our labels are bar-coded and printed four-color process using flexography to let us put a special varnish on the circle image of the label. Also, I apply all our labels by hand, and we use a permanent adhesive with a longer setup time that gives me a bit more latitude to adjust the label.
Who originated your label design/format?
Caliber Creative. We asked them to create a label format for the Herman Marshall product line that was inspired by the label for Knob Creek, which is positioned similarly to our company in this market. We were looking for a front-and-back bottle label with a Western motif.
Currently, what is the look of your label intended to convey to customers?
It's designed to marry a Western element with more of an urban chic approach for a look that is not a full-on cowboy. The orange-red color of the bourbon label tested well with Millennials, and the crooked circle is an eye-catcher. Also, if you line up the different product bottles and look at them side-on, each label displays a portion of a photograph of M Street in Dallas, taken during the 1930's.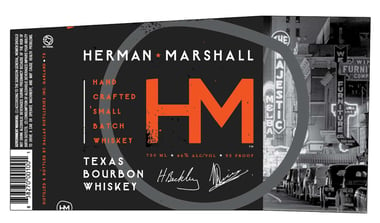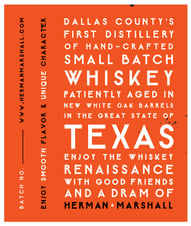 Over time, do you intend to develop new product lines? Will you need new/different labels for those lines?
We have nothing planned immediately; but over time, we might release a reserve batch or a cask-strength batch, for example, and at that point, we would need new labels for those product lines.
Quick Notes

SixB Product: Product Labels

Applying To: Glass Bottles

Materials & More:

Wet-Strength Paper
4 Color Process Labels
Flexographic Printing
Permanent Adhesive with Longer Setup Time
What Can SixB Labels Do for Your Wine or Spirits Bottles?
This Client Chat is meant to introduce readers to just a few examples of our expertise in producing whiskey bottle labels. SixB Labels can offer over 40 years of experience in the printing of wine bottle labels, beer bottle labels, whiskey bottle labels and all spirits bottle labels. If you work in a similar industry, we encourage you to get in touch with us today to discuss your next label project!

Save Time - Email Us Directly With Your Label Questions:
See Related: