Client Chat Series – When I spoke with Nader Naim at our client company, Cake Craft, his excitement and enthusiasm for the company, its growth, and its mission were very much on display. Cake Craft, maker of fondant and sprinkles and baker of (delicious) cookies, sits in a business park not far from that of SixB Labels. We started off our meeting with a company tour, but only after we had donned the face masks and hair nets required by Health & Safety regulations. We then walked through a sparkling, very modern production facility, and finished with a sit-down interview. Nader shared the following information about their business and how we have helped their growth since they moved to Garland, Texas.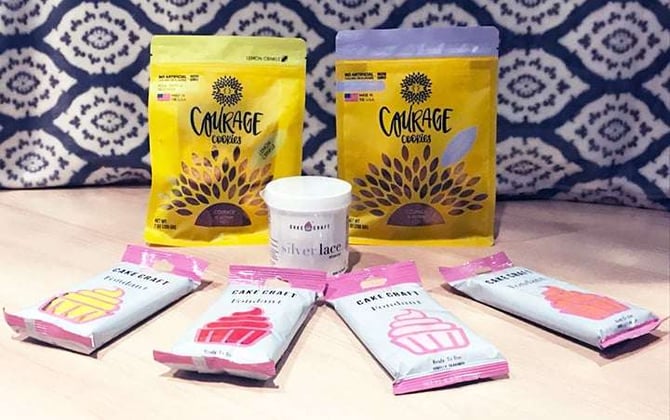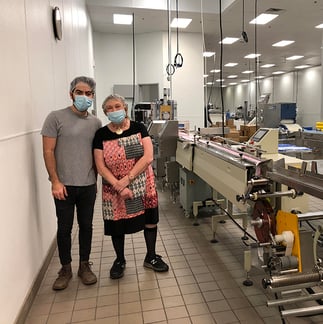 Company History
When, where, and how did your company get started?
Bill Naim, our company owner, had been in the bakery/candy business since the early 90's, and had a robust foundation of production built around his factory in China. Bill has always been an entrepreneur; he introduced the 6-ounce muffin to Costco and Sam's Club and invented the Jelly Pop Candy, a huge retail hit in the early 2000's.
He believed that home baking and decorating would become a strong trend at some point in the 2010's, so he started Cake Craft sometime in late 2007, in his home office in Los Angeles, California. He slowly began installing equipment in his factory that could produce fondant and the full range of baking and decorating items. As soon as he started production, he received a lot of inquiries from major retailers.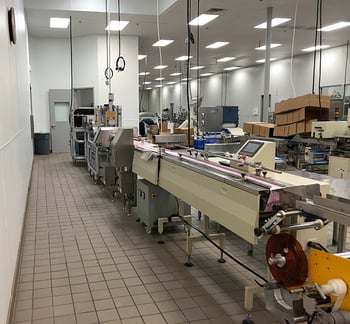 How long have you been operating in Garland?
We decided that relocating stateside was the best fit for the company, and moved our manufacturing facility to Garland, Texas in December 2017. Since then, our products have been popping up in major U.S. retail craft stores, including Home Goods, Jo-Ann, Williams-Sonoma, AC Moore, Hobby Lobby, and Michael's.
Right now we're at 25% of our former output in China. Our goal is to scale back up to our previous capacity. To make that happen, we're expanding our facilities by taking over and converting another building for production and buying new and improved equipment, all of which has to be custom made. Cake Craft sources equipment from several countries, including Italy, Germany and Japan. The Japanese equipment is really good for extrusion and deposition, and the cookers come from Germany.
So, what do they say about German engineering?
It's true! (Laughs.)
What is your role in the company, and how did you join?
Since this is a family-owned and family-run business, I've been involved in it since I was a little kid! But I officially joined it in 2014.
And your title is?
I'm the Creative Director.
I noticed that your company really leverages Instagram for marketing. Also, it looks like your business is being helped along by the digital do-it-yourself movement – all those cooking and baking videos on YouTube and the great food postings on Facebook.
What is your preferred website URL? What are your social handles on the likes of Facebook, Twitter, Instagram, LinkedIn, Pinterest, Google+?
Our URL is www.CakeCraftUSA.com. We are slowly building a presence on other social media platforms. We maintain a Facebook page, which we'll keep on expanding, and we put out product videos on Twitter and YouTube. But right now, our favorite social media platform is Instagram. The focus on beautiful pictures – the creations of our Instagram artists – makes it the perfect medium for us.
Working with SixB Labels
How did you decide to become a SixB Labels client?
I did a Google search for labels and followed links to your website. I called the phone number and ended up talking to your Estimator, Barry Schooling. I found him to be friendly, helpful, and knowledgeable. That made picking SixB Labels as a provider an easy choice!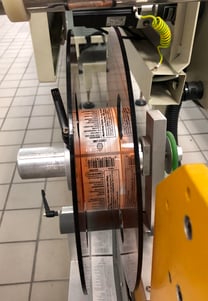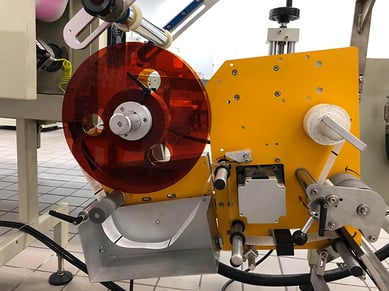 How have we simplified the labeling process for your company?
Your company caught on right away – we didn't have to explain much about our production or labeling needs. For example, we brought over product buckets – designed with a tapered shape – and you came up with a curved label design that fit them exactly.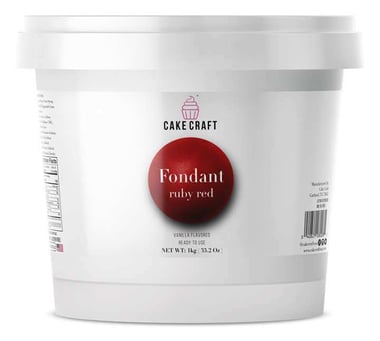 Or there was that time that we found out we were about to send out jars of a product without tamper seals – your folks had the seals ready to go in two hours!
Your Product Labels
What is the anatomy of your label (e.g., barcode, hot stamp, materials involved?)
Most of the labels are printed on clear film, typically for our fondant containers. Also, we buy glossy paper labels, usually barcoded.
Who originated your label design/format?
Me!
Was it finished when you brought it to us or did it need to be developed further?
It needed additional sizing and some tweaks to the shape – Barry and your sales rep, Bill, helped with that process.
Currently, what is the look of your label intended to convey to customers?
That our products are clean, modern, colorful, and beautiful. The packages are meant to look good on the shelf even when partially empty. And they are designed to position us as the perfect solution for someone who wants to find a fun, easy way to personalize their baking and make special creations.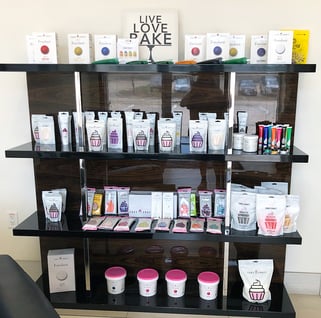 Over time, do you intend to develop new product lines? Will you need new/different labels for those lines?
Yes. Over time, we will need additional labels to accommodate new product lines.
We have two current brands: Cake Craft, for our regular retailers, and Sweet, our Dollar Store brand. Same products, but packaged differently. Right now, for both of those brands, our main focus is on developing our fondant, our cookies, and our sprinkles.
Product development is a time-consuming process – we don't want to launch products without a lot of prior testing. Our current goal is to diversify those lines with additional colors and sizes and continue to upgrade and refine. Also, we launched new do-it-yourself Holiday Cookie Kits at the end of 2018; they are not on our website at this point because we're actually in the process of changing the artwork for those items.
Quick Notes

SixB Product: Food Product Label

Applying To: Plastic Tubs; Heat-Sealed Mylar Packages

Materials & More:

Clear Film
Gloss Paper
Flexo and Digital Printing
What Can SixB Labels Do for Your Food Product Containers?
This Client Chat will hopefully give readers some ideas about what we can do for their food containers. We can lend our expertise, garnered from over 40 years of producing labels for a variety of food packaging, made in a number of different formats and with a wide range of materials including paper, plastic, Mylar, and glass. If this could meet the needs of your industry, we suggest that you reach out to us today – we are always ready to discuss how we can help you with your current and upcoming label projects!

Save Time - Email Us Directly With Your Food Label Questions:
See Related: