Happy Gregorian Calendar New Year, Lunar New Year and a Very Peri PANTONE Color of the Year 2022!
Personally I am a proud PANTONE Color Products enthusiast, sipping my coffee from a PANTONE 520 Aubergine-hued mug as I write this post. As we were developing our end-of-2021 marketing, I made sure we weaved in the year's two colors — PANTONE 17-5104 Ultimate Gray and PANTONE 13-0647 Illuminating. So it should not be much of a surprise that I was waiting in anticipation for them to announce their 2022 Color of The Year: PANTONE 17-3938 Very Peri.
We are so excited to start using the color in our marketing that the SixB team designed some festive logos for the occasion, featured here, incorporating a solid Very Peri in reverse as well as one with an image of fibers and orbs in reverse, as PANTONE has been highlighting in their materials about the color.

Why should you be curious what PANTONE'S Color of the Year 2022 is? Well, you just might want to weave Very Peri into your labeling this year, even if you do not typically follow trends like this in your business. In this post we will happily dive into the PANTONE Color of the Year selection process, why Very Peri was created, how it resonates with our business, as well as offer some ideas for labels in such categories as Health, Beauty & Wellness; Beer, Spirits, other Beverages; and Pet Products.
What is the PANTONE Color of the Year Process?
The color experts at the Pantone Color Institute search throughout the world for influences from entertainment industry productions, art collections and new artists, fashion, all facets of design, travel destinations, new technologies, textures, and materials. Almost anything that impacts color is evaluated. PANTONE's Color of the Year has influenced product development across industries, from fashion and industrial design to product packaging and graphic design, for 23 years and counting.
Why was PANTONE 17-3938 Very Peri Picked as the 2022 Color of the Year?
An interesting twist is that this year, rather than selecting the typical two colors of the year from the multitude of colors already in the PANTONE universe, these color experts chose to create a new one for the first time in the program's history. Laurie Pressman, Vice President of the Pantone Color Institute, says on their web site that this decision "… reflects the global innovation and transformation taking place. As society continues to recognize color as a critical form of communication, and a way to express and affect ideas and emotions and engage and connect, the complexity of this new red violet infused blue hue highlights the expansive possibilities that lay before us."

It is particularly notable that the folks at PANTONE not only created a new color for 2022, but found it so important to highlight only this one, rather than their practice in years past of making multiple colors prominent every year.

Leatrice Eiseman, Executive Director of the Pantone Color Institute, notes that: "Very Peri brings a novel perspective and vision of the trusted and beloved blue color family, encompassing the qualities of the blues, yet at the same time with its violet red undertone, PANTONE 17-3938 Very Peri displays a spritely, joyous attitude and dynamic presence that encourages courageous creativity and imaginative expressions."

At SixB Labels we were struck by the imagery of orbs and the thread textures in the video that the PANTONE team created as part of the Very Peri promotions, posted below. PANTONE notes that the color "blends the faithfulness and constancy of blue with the energy and excitement of red." As 2022 gets underway, we were beyond thrilled to commemorate that anticipation and durability with the special versions of our logo pictured earlier in this post.
How Relevant Is PANTONE'S Very Peri For Your Labels?

As we embark on 2022 and begin to evaluate the longevity of the trends opinion leaders have been remarking on recently, you could easily question whether PANTONE'S Very Peri relates to your business.

The point of this post is that you might be surprised at how worthwhile you would find it to explore the possibilities this year. PANTONE picking Very Peri with undertones of blues and reds signals the importance of the colors we witness so regularly in products and businesses. At SixB, our brand color has been Reflex Blue for decades, and at our inception we utilized Reds to stand out in the industry.

Also, the exponential growth of the digital printing method for labeling, and the wide selection of ways to label with a short volume of multiple designs offered by our team, make an exploratory product, let alone label design, more and more accessible. Part of our responsibility in being here for your business for 43 years and counting is to be an inspirational resource, and available in a multitude of ways, as noted in our

"7 Ways To Label" and counting blog post

.

So, what are some PANTONE'S Very Peri Inspired Label Design Ideas?
It is not necessary to have a fashion forward approach to utilize PANTONE's Very Peri as a focal point in label design. While if being on point of the latest trends is important to your business, then avoid the Color of the Year at your own peril! Of course we recommend continuing to review some of our ideas below and circling back with us ASAP for a complimentary quote on your Very Peri thematic label.
Cosmetic, Health, Beauty Labels — A Very Peri-hued hair color might be one of the more popular uses. PANTONE has been highlighting hair-like fibers in their messaging quite frequently so far, with a role in such popularity likely. Also, with our digital label printing options, a shorter run volume for a "Very Peri Hair Color" is quite accessible as a beauty company prints their staple color products. All the while, a variety of eye shadow, lip gloss and lipstick commemorative hues could be quite the cosmetic fit with this 2022 Color of the Year.
Wellness Product Labels — Tinctures incorporate a multitude of nature-based remedies, while also being a notable presence in the CBD product-line-up world. PANTONE'S Very Peri aligns quite easily with images of nature that tinctures tend to feature. Beyond smaller volume runs, digital labels are also prime for photography. In these Very Peri Label ideas, note how the background of a label could be a sprig of lavender outdoors or the lavender simply sitting on a solid color background.
Pet Product Labels — Although it might appear that PANTONE's Color Of The Year is a target more for luxury, fashion, and cosmetic brands, so the owner of a pet product business might think that this trend would not relate, but that thinking could be quite wrong. As this post has shared how Very Peri appears everywhere in nature, why not spotlight the specific animal the product would nourish or support otherwise? This bird seed and frog food example features particularly unique pets, and with the hues depicted in the photography, your label would stand out, whether on a physical store shelf or web page scroll during online shopping.
General Beverage Labels — While low-to-no caloric Sparkling Waters are continuing their popularity streak, it is simple to weave in Very Peri for a limited- time product. Whether for these waters or other non-alcohol based beverage labels, simply incorporating the hues within your labeling will also attract buyers without necessarily having to alter your beverage's flavors or its name. With the latter scenario, if incorporating Very Peri into a longer-term product's labeling strategy, where a larger-volume label order seems appropriate, the project could include some higher-quantity price breaks as well.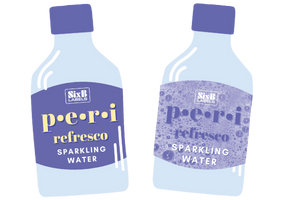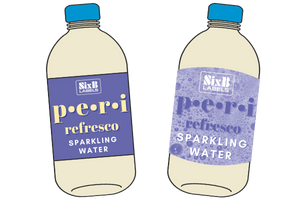 Beer Labels & Spirits Labels — Branding and packaging for beers and spirits such as whiskey, tequila, and vodka have taken some whimsical and creative twists in recent years. Hence these types of products being quite ripe for some limited available versions leveraging Very Peri in their packaging. Options could include mixing in these Beers & Spirits technically shorter-volume unique designs, (along with their even quirkier names and relatable flavorings) with more staple offerings in your multi-version digital label printing. Also, for those smaller wineries, we are happy to strategize a labeling solution to produce a small batch of wine labels if you come across a unique harvest.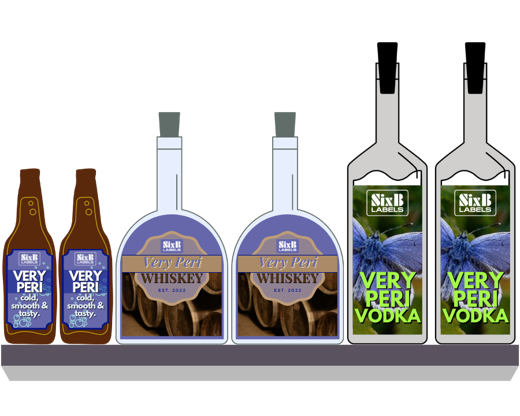 However you choose to explore utilizing PANTONE's 2022 Color of the Year: Veri Peri, we celebrate you for taking the journey, and the time to review the ideas in this blog for yourself and your business, and ultimately, for considering the opportunity to partner with SixB Labels for your next venture with labels. As part of our "thank you in advance" for reaching out about your next project, we have a special offer. For orders that would incorporate a color-matched fee when non-stock inks are used, we will waive the PANTONE Very Peri applicable ink match fee on such orders made from now through business hours on 12/31/22 with the code: VERYPERI. Your customer service representative will happily coordinate the printing method of your project and your next steps when using this code. We look forward to connecting with you today!
Reach Out To Us Today About Your Project: