Making a vivid splash across the worlds of beauty, fashion, home interiors, graphic design, advertising and marketing, comes the announcement of the 2023 PANTONE Color of the Year: PANTONE 18-1750 Viva Magenta. Made official on December 1, 2022, this startlingly colorful message to the world, embodied in the luxurious blend of red and blue, hot and cool, retro and up-to-the minute vibes that is 2023 PANTONE Viva Magenta, positively blossoms with its many possible applications. From paint, to signage, to point-of-sale displays, to our favorite medium for marketing messages, labels, Viva Magenta is a vibrant color that you would do well to explore, to discover what it might hold in store for your product or industry.

Due to their high visual impact, we love to incorporate these new PANTONE colors into our marketing, and as we have in the past, we have taken the liberty to design some logos for the occasion showcasing this spicy shade, featured here.
Why should you wonder about the choice of 2023 PANTONE'S Color of the Year? Even if you are not a follower of PANTONE or color trends in general, we advise you to take a look, because of the strong influence that color has on perception. The right color choices in advertising can convey positive feeling states of warmth, freshness, and excitement. Incorporating shades of strong colors in your marketing can tie these emotions to your product or service and help to showcase their value to your potential buyers.
Accordingly, we will touch on the PANTONE Color of the Year selection process, why Viva Magenta was created, and how it syncs with our label business. And we will present you with a few ideas on how this color might positively influence labeling in categories we commonly print, such as Health, Beauty & Wellness; Beer, Spirits, other Beverages; and Pet Products.
What is the PANTONE Color of the Year Process?
Laurie Pressman, Vice President of the Pantone Color Institute, explains that PANTONE is in the business of color, which lends them the authority to analyze color trends. In 1999, their Pantone Color Institute created the Pantone Color of the Year educational program, meant to highlight to a global audience of design community members and color enthusiasts that events in the global culture are both expressed and reflected through the language of color.
To arrive at the Color of the Year, the color experts evaluate almost anything in the world that impacts color. These influences range across the worlds of art, sports, social media, entertainment and fashion, as well as all facets of design. They also analyze travel destinations, new technologies, textures, and materials.
Why Was PANTONE 18-1750 Viva Magenta Picked as the 2023 Color of the Year?
On their website, The Pantone Color Institute describes their newest Color of the Year, Viva Magenta 18-750, as the product of a careful analysis of trends. Their color experts chose it for its boldness, strength and vibrancy, and its origins in nature. The color was seen as an embodiment of digital culture, unconventionality and joy: an exuberant embrace of the possibilities for self-expression that the New Year can bring.
How Can You Make PANTONE'S Viva Magenta Relevant For Your Labels?
We take our role as a consultative sales organization very seriously. We will always strive to support our clients' businesses, as we have been doing for more than 43 years. We believe that part of our responsibility is to be an inspirational resource, and we have sought to make this available in a multitude of ways. See, for example, our "7 Ways To Label" blog post.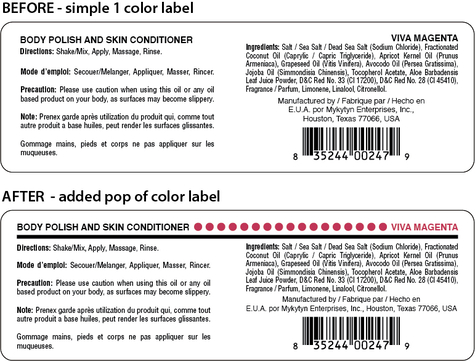 So, in light of that role, we would definitely urge you to pay attention to PANTONE's pick for the upcoming year, Viva Magenta, and consider its applications for branding, including packaging, signage, and especially labeling. We are well aware that color is one of the most effective tools for branding. The SixB Label team has been using Reflex Blue as our brand color for decades, and when we started the company, we also utilized Reds to stand out in the industry.
In addition, the explosive growth and popularity of the digital printing method for labeling, and the wide variety of methods offered by our team for labeling with a short volume of multiple designs, make it easy to incorporate a color like Viva Magenta into an exploratory product, as well as into label design.
What are Some Label Design Ideas That Might Incorporate PANTONE'S Viva Magenta?
The impact of a color as vivid and inviting as Viva Magenta lends itself to many different types of labels. We suggest that you review some of our ideas below and reach out for a complimentary quote on your Viva Magenta thematic label.
Food Product Labels

— The tones of Viva Magenta, reminiscent of red fruits from apples to tomatoes, as well as candies, sauces, and any food that is natural/organic, spicy or exotic, are a perfect fit for a host of food product label applications.


Cosmetic, Health, Beauty Labels — For the bold and experimental,
a Viva-Magenta tinged hair color might be a fine direction to take the color. Since we can provide you with the option to print your labels digitally, undertaking a shorter run volume for a "Viva Magenta Hair Color" label becomes an affordable goal for a beauty company when printing their staple color products. And because Viva Magenta is such a plush, elegant color, it lends itself to everything from nail color, to lip gloss, lipstick and eye shadow.



Wellness Product Labels

—

Because Viva Magenta is a color reminiscent of so much in nature, from flowers to berries, PANTONE'S Color of the Year for 2023 would be a perfect match for a tincture or other organic/nature-based product.

The brilliance of the PANTONE Color of the Year for 2023 on a label is an excellent match for a multitude of nature-based remedies; for example, a CBD product-line-up. Beyond smaller volume runs, digital labels are a great medium for photography. The background of a Viva Magenta label could feature a sprig of berries or a flower in shades of that color or a wash of Viva Magenta for a solid color background.


Pet Product Labels — Although it might appear that PANTONE'S Color Of The Year for 2023 would best be suited to luxury, fashion, and cosmetic brands, as opposed to pet product labeling, that need not be the case. Since shades of Viva Magenta appear everywhere in nature, with the lively tones depicted in photography or other artwork, your pet product label would stand out, whether it appeared on the shelf in a brick-and-mortar store or on a web page.


General Beverage Labels — With its roots in nature, the striking color that is Viva Magenta lends itself to beverage advertising. Whether low-to-no caloric Sparkling Waters, which are still a growing market, or other non-alcoholic beverages, the vivid intensity of PANTONE'S Color of the Year for 2023 makes for an attractive label. For a holiday sale or a shorter product run, it is simple to weave in Viva Magenta for a limited- time product. Whether for these waters or other non-alcohol based beverage labels, simply incorporating the hues within your labeling will also attract buyers without necessarily having to alter your beverage's flavors or its name. With the latter scenario, if incorporating Viva Magenta into a longer-term product's labeling strategy, where a larger-volume label order seems appropriate, the project could include some higher-quantity price breaks as well.


Beer Labels & Spirits Labels — Branding and packaging for beer, as well as whiskey, tequila, vodka and other spirits, have gone farther afield these days, and included whimsical and creative twists. Which means that these types of products are well suited for some limited available versions leveraging Viva Magenta in their packaging. Options could include mixing in these Beers & Spirits and their technically shorter-volume unique designs (along with their even quirkier names and relatable flavorings) with more staple offerings in your multi-version digital label printing. Also, for those smaller wineries, we are happy to strategize a labeling solution to produce a small batch of wine labels if you come across a unique harvest.
However you choose to explore the many ways you might take advantage of the brilliant choice of PANTONE's 2023 Color of the Year: Viva Magenta, we want to thank you for reviewing these ideas to determine if they might be suitable for you and your business. We sincerely hope that you will consider partnering with SixB Labels on your next label project, and as part of our "thank you in advance" for reaching out to us about your next project, we have a special offer. For orders that would incorporate a color-matched fee when non-stock inks are used, we will waive the PANTONE Viva Magenta applicable ink match fee on such orders, made from now through business hours on 12/31/23, with the code: VIVAMAGENTA. Your customer service representative will be happy to coordinate the printing method of your project and your next steps when using this code. We look forward to connecting with you today!
Reach Out To Us Today About Your Project: